Securing liquidity through working capital optimization
Working capital management is an interdepartmental activity. Mainly managed by the finance department but procurement, supply chain management, production and sales also have a major influence on the variables – but often without being aware of their role.
The basis of efficient liquidity management is therefore to build up knowledge of the interrelationships among all parties involved and to create clear responsibilities. Bringing our comprehensive hands-on project experience, we will support you to improve your working capital in a sustainable way, with a total cost of ownership (TCO) approach.
The benefits of professional Working Capital Management
Improved cash flow allows strategic flexibility that can yield in a competitive advantage in today's rapidly changing markets
Leaner balance sheet leading to improved KPIs and valuation metrics – less cash needed to fund the company allows a higher valuation
Improved bottom-line through less bad debt, less obsolete inventory and decreasing financing costs
The Cash Conversion Cycle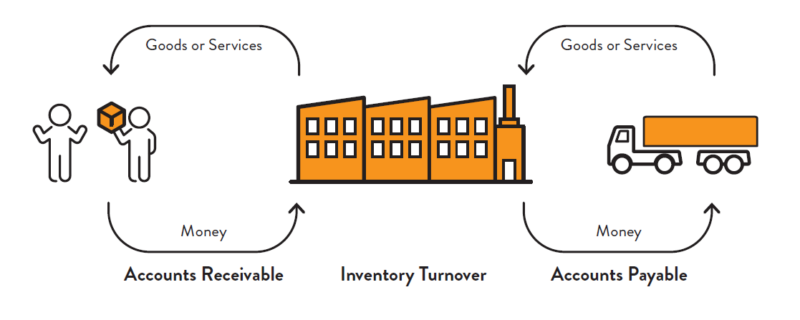 Basis: Understanding the current state of play

In preparation for sustainable optimization, we analyze your working capital to create complete transparency about your cash conversion cycle (CCC). Behind every SKU (Stock Keeping Unit) of dead stock is a process, incentive, governance model, or inventory model that is not optimally aligned with your company's needs. We review existing policies and interview key personnel from relevant departments to ensure we have a complete picture and understanding of your organization, its current situation and your future needs.

Strengthening resilience

Working closely with cross-functional teams and based on our best practices, we define actions for implementation within DIO, DSO and DPO that will improve your cash conversion cycle. We break down the identified actions into a list of concrete initiatives including a roadmap with milestones and action plans.

Implementation & organizational anchoring

We support your team with the realizing the implementation and provide guidance as well as assistance in writing policies, negotiating with suppliers for improved DPO terms, delivery terms or volumes.Through this approach we are ensure sustainable anchoring within the organization.
Our working capital optimization experts
Our working capital insights