Increase the value of your portfolio companies!
We support the value enhancement of your portfolio companies with many years of expertise and powerful procurement optimisation programs. We accompany you throughout the entire process – from short-term measures during due diligence, to operational measures to increase value during the holding phase, to preparing the exit.
Portfolio companies that have been in private equity ownership for a long time usually already have a very professional procurement organisation and have already implemented the entire set of standard measures. We go one step further and use sophisticated methods and levers to find further potential in your portfolio companies. In addition, we support you in the digitalisation of processes and the implementation of compliance and sustainability strategies.
We work for more than 50% of the biggest private equity firms worldwide. >>
(Source illustration: Visualcapitalist)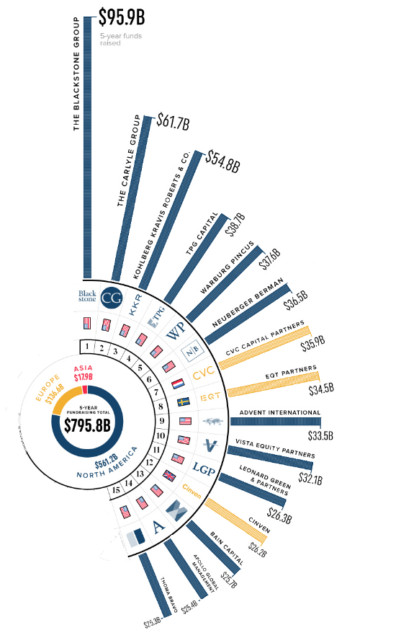 How do we operate in private equity consulting?
Within the framework of operational due diligence, we create transparency and evaluate synergies as well as potential savings that could be realized in the event of a takeover of the investment target. Thanks to our many years of experience and benchmarks from a wide range of industries, we can present you with a meaningful and realistic assessment of potential within a very short time. From this, we derive a detailed implementation plan for you, including a ramp-up forecast for the run rate and EBIT impact of the savings.
Cost optimization:
After a detailed analysis of your direct and indirect requirements, we develop an action plan by identifying the optimal levers for each product group. As a rule, we start with categories in which we can realize quick wins – rapid savings results that become immediately visible in the P&L. Using methods such as demand management and cost structure analyses, we put specifications to the test and uncover inefficiencies that lead to further savings.
Procurement transformation:
As part of the optimization process, we also put the procurement organization of your portfolio companies to the test. We support you in formulating procurement strategies, optimize procurement processes and further develop the organisation. This also includes the accompanying implementation of change management measures and training programs.
Digitization of procurement:
We help with digitalisation projects with our expertise in various industries – from the implementation of e-sourcing tools and the digitalisation of procurement processes to powerful data analyses and dashboards.
Working capital optimisation:
In order to secure the solvency of your portfolio companies and avoid unnecessary surpluses, we optimise payment flows and inventories and thus ensure an working capital is optimized.
Scope 3 Decarbonization
We create visibility of your portfolio companies' scope 3 emissions by developing a Carbon-Cube. This allows us to identify and deliver procurement opportunities to reduce net emissions in the supply chain.
We help you identify and use synergies between portfolio companies. Projects to standardise and bundle requirements usually offer great savings potential. However, they are also highly complex. Taking into account the interests of all companies and stakeholders involved, our procurement experienced experts create transparency in the often heterogeneous systems and organizational structures and define the most effective levers.
Carve-Out:
In the context of carve-out deals, we support you in ensuring a smooth transition or in setting up a new, efficient procurement department. In doing so, we analyze existing structures and contracts and hold talks with existing suppliers in order to ensure and legally secure the supply directly after the carve-out.
Post Merger Integration (PMI)
The merger of two portfolio companies as well as add-on integration offer enormous optimization potential in procurement. We support you before the closing by carrying out confidential analyses at both companies and drawing up a tailor-made implementation plan, naturally without violating applicable competition law. Post-closing, we support you in the implementation of the action plan, realize P&L-effective savings and help to establish a central and sustainable procurement organization.
We set up a high-performance supplier management system for you. We use this to secure sustainable savings and support you in recognizing and managing price and supply risks in good time. We also check your supply chain for compliance risks and help to ensure sustainability standards among suppliers.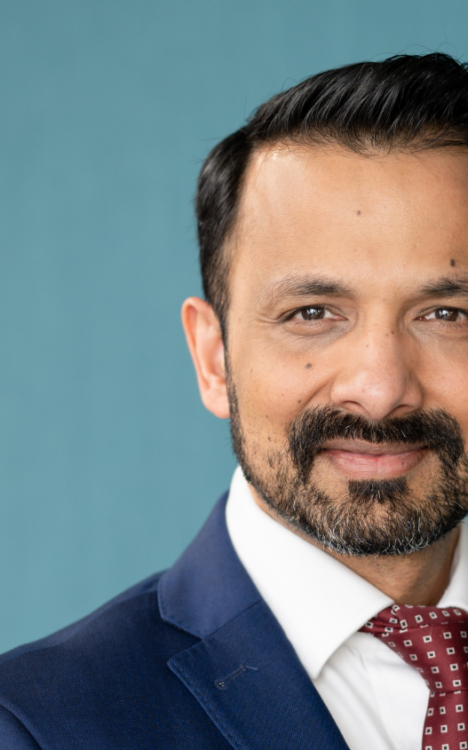 The current high cost of capital creates even greater urgency for private equity to drive deeper, quicker and more sustainable value delivery. Supporting EBITDA improvement, supply security and optimizing working capital can offer portfolio companies an ROI of between 3x-10x.
Sushank Agarwal, Managing Director, INVERTO UK