From 2023 onwards, the new supply chain law will apply, with which policymakers want to prevent human rights violations and anchor the obligation to protect the environment beyond national borders. Companies with more than 3,000 (from 2024: 1,000) employees must implement comprehensive compliance measures and processes and create transparency across their entire global supply chain. This is a particular challenge for fashion and textile companies, as more than 60 percent of the industry's value added is generated abroad – predominantly in Asia.
Procurement, with its interface function to logistics, compliance and supply chain, plays a central role in the review and further development of the supply chain: it helps to create transparency about the supply chain, to concretely identify the need for adaptation for fashion companies, to establish risk management and to define necessary processes.
Companies with less than 3,000 employees should first talk to their customers: If they fall under the new law, they are also under obligation.
Our experienced team supports your procurement staff in identifying risks and taking countermeasures. If necessary, we will work with your procurement department to develop a procurement strategy that complies with the Supply Chain Act and other sustainability criteria. In training courses tailored to individual needs, your employees learn how to integrate sustainability aspects into their daily work.
Internal and external obligations under the Supply Chain Act
Companies covered by the Supply Chain Act must review and, if necessary, adapt both internal and external processes:
Internal:
Designate a responsible body within the company, for example human rights officer
If ESG rules are in place: check whether they are sufficient to meet the legal requirements
If not: adopt a policy statementEstablish a complaints mechanism for affected persons
Establish risk management: Regular risk analyses and definition of countermeasures
Take preventive measures.
This is possible in cooperation with external organisations such as FairWear or TÜV to audit suppliers and production sites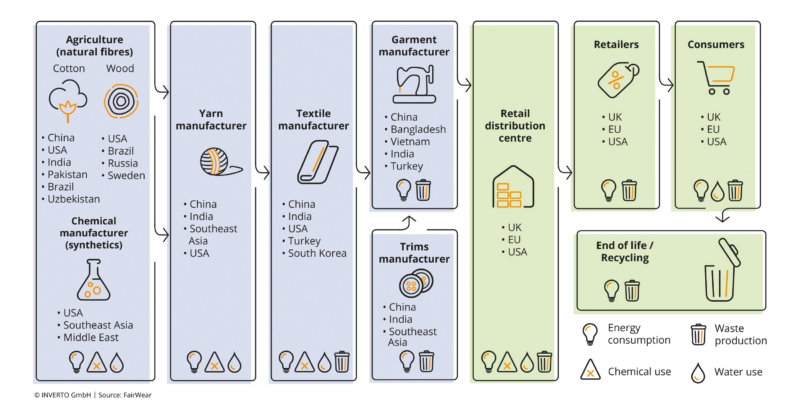 External:
Claim contractual commitments or guarantees of compliance with standards from suppliers and subcontractors (Tier A-Z)
Get audit and inspection rights
Agreement on extraordinary termination rights in case of violations
Safeguard the passing on of obligations to the other suppliers, as well as contractually anchor extensive indemnities and contractual penalties.
Have on-site inspections at production facilities carried out by external assessors
The high effort involved in implementing the Supply Chain Act is a challenge. At the same time, however, the law holds the opportunity to bring transparency into one's own supply chain, to deepen cooperation with trustworthy suppliers and thus to offer improved products that are attractive to customers.
Contact our experts: