The quote that a journey of a thousand miles begins with the first step is attributed to the ancient Chinese philosopher Lao-tzu. What Lao-tzu surely knew: The same applies to the way back. What this might look like is what many companies are asking themselves today as they consider re- or nearshoring in the face of supply chain issues and growing geopolitical tensions.
We gladly analyze with you whether and for which primary products regional producers are available and whether relocation is a reasonable option. We also review your supplier network with a focus on diversification and a more resilient design of the supply chain. Often, an intelligent mix is the right solution to optimally tailor availability, costs and supply security to your needs.
The five steps of the nearshoring process
The relocation of manufacturing activities back from overseas or the selection of regional suppliers should be well thought out and anchored in the long-term corporate strategy. Essentially, the nearshoring process consists of five steps.
Diversification of supply chains is the order of the day. In the face of pandemics, increasing climate change, political tensions and war, it has become clear that it is risky to order precursors from only one supplier or in one region of the world. If companies are broadening their supply network, it may make sense to include regional suppliers.
For which upstream products re- or nearshoring is a realistic option should first be checked with the help of a risk analysis. To identify all risks, a structured examination of the existing supplier portfolio is necessary. Where do risks threaten, how likely is it that they will occur?
Find out more about structured risk analysis here.
When making your decision, keep in mind that you don't have to go from zero to 100 percent. A step-by-step approach and starting with those products that can be procured regionally relatively easily and at comparable costs makes sense in any case.
With the help of a TCO (Total Cost of Ownership) analysis, you can find out which solution options you have for the identified risks. Here, not only quality, unit and transport costs are considered, but also lead times, minimum order quantities or sustainability aspects. This holistic analysis often shows that the total costs between offshore and nearshore production are not as far apart as expected. As a rule, you should start with your most successful products, as any failures here will result in the most serious losses. In any case, you need a dedicated qualitative and quantitative evaluation of the different alternatives for action.
When analyzing new supplier markets, do not only consider the classic options of Eastern Europe or Turkey, but also check less well-known markets. Depending on the product, there are very professionally positioned other regions where it is worth qualifying new suppliers.
The higher costs that usually nevertheless remain after the TCO analysis can also be evaluated as a risk premium: Nearshoring is not primarily a cost issue, but an option to make the supply chain more resilient.
You need to always make the final decision in line with the overall strategy of the supply chain, procurement and the company as a whole.
When diversifying your supplier pool, also consider their upstream supply chains. At first glance, different suppliers in different regions of the world increase supply security. However, this turns out to be an illusion if, in the event of a risk, it turns out that all suppliers obtain indispensable raw materials or materials in the same region of the world – the fact that currently over 60 percent of all semiconductors manufactured worldwide come from Taiwan is the best example of this.
It should be noted, however, that complete diversification with different supply chains is not always possible. A mix of regional and offshore suppliers is therefore the most sensible solution for many companies. The optimal mix for your supply chain should be given the highest priority.
There are procurement markets for which there are currently no regional suppliers. In this case, it can make sense to create such a supply through cooperation – for example, as the automotive industry is currently planning for battery cell production. There are three possible approaches here:
Cooperate with a regional supplier to build the required skills and facilities
Convince an offshore supplier with whom you work closely to set up production in Europe
Establish your own production
Examples already exist for all solution paths; we will be happy to support you in the decision-making process with a make-or-buy analysis.
Once the results of the new partnerships are successful, it is important to integrate the new suppliers firmly into your own network and deepen the cooperation through continuous supplier management. Define a precise plan and control tools so that supply chain security is not compromised during the changeover process.
Deepening also includes thinking about further steps of diversification and re-regionalization. With the analysis for further categories of goods, you start the process again.
Our experts have developed a program with which nearshoring options can be worked out in a well-founded manner. Contact us!
The Near-Shoring approach supports the gradual conversion of categories to alternative procurement markets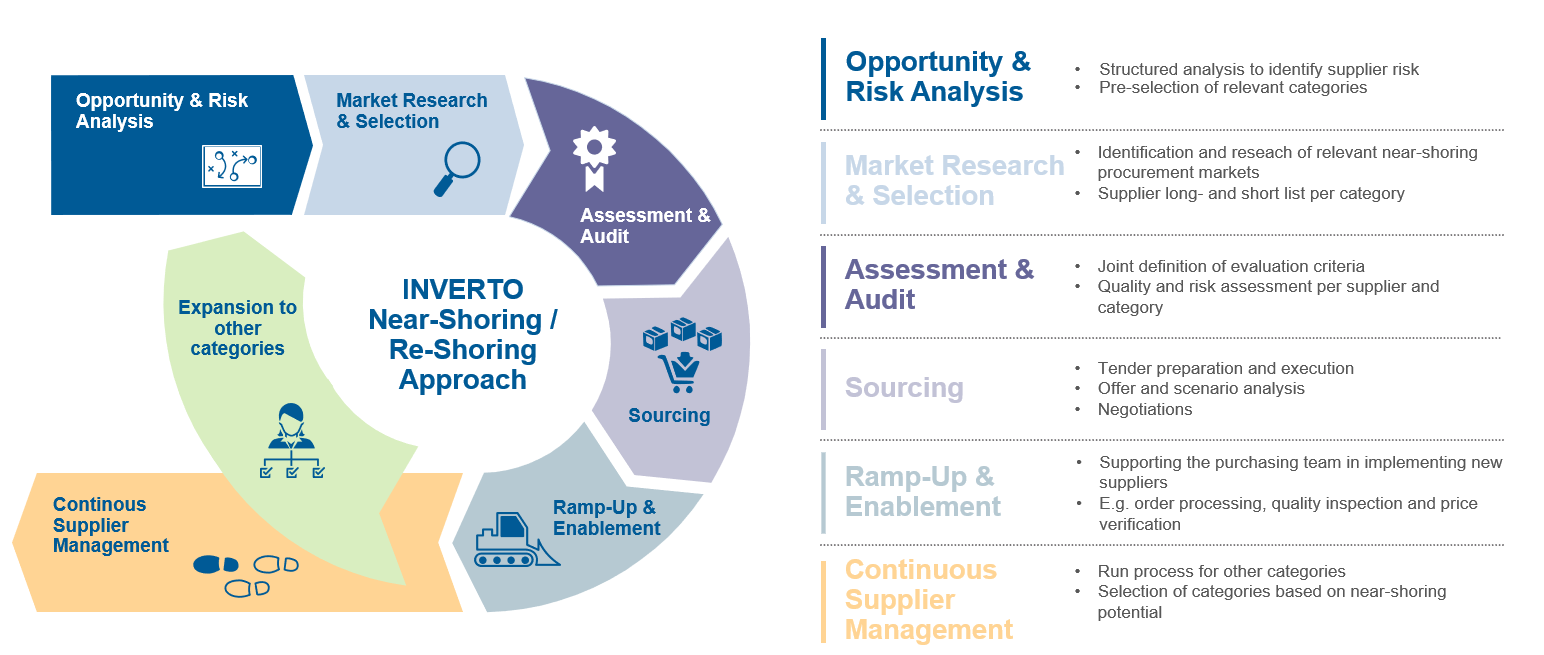 Get in touch with our experts
Supply Chain Management Insights