Why is category management so important?
Customers have never been so well informed and had so many options as they do today. Through the internet, modern consumers are comprehensively oriented about products, manufacturers and the retail companies themselves.
In order to remain competitive in the long term, retail companies have to set up their category management holistically and across product groups. Even if strategic category management takes over central control in the future, an operational unit to satisfy local and region-specific customer needs remains indispensable.
The right assortment planning – "Walk a mile in your costumer's shoes"
Today, simply optimising space is no longer enough to operate efficiently, stand out from the competition and increase customer loyalty. With our proven optimisation approaches in category management, we can provide you with important competitive advantages.
Our project experience shows that the contribution margin can be significantly increased through holistic assortment planning. In addition to optimising overall assortments with upstream potential analysis, we can also work on individual assortments and product groups as required.
The customer journey as the basis for assortment planning
Retailers should be able to actively shape the entire process of the procurement decision, the "customer journey". In the course of digitalisation, almost unlimited technical possibilities are opening up for retailers to analyse the usage behaviour and needs of customers. The big challenge is to identify exactly the data that leads to the procurement decision and thus to better understand the target group.
Nowadays, this data comes from various sources: A classic customer card provides reliable information about shopping behaviour in the own store. For comprehensive and forward-looking assortment planning, however, this internal data must be linked with data from external sources such as social media or online marketing. Through comprehensive analysis, the right correlations can be identified and conclusions drawn about procurement behaviour.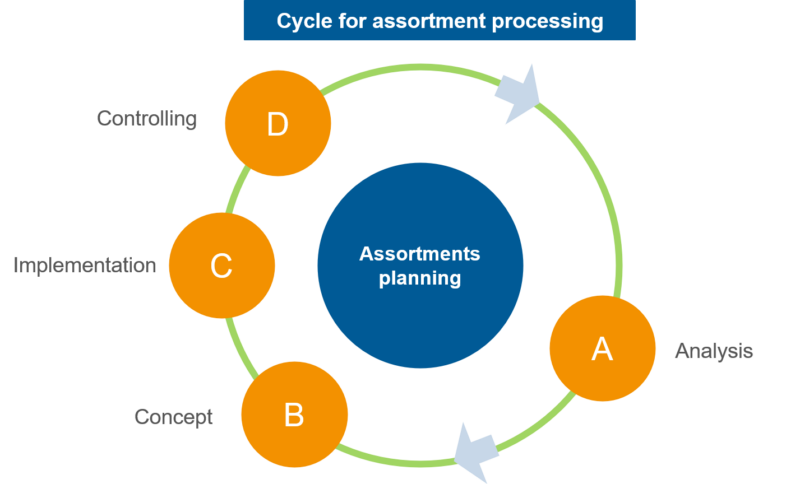 In classical category management, this task can hardly be accomplished. This is because a category manager usually only manages one region, one distribution channel or one specific product group. As a result, there is often no interdepartmental exchange. This makes it impossible to identify the relevant data for the company and to derive strategic and cross-channel as well as cross-category target group definitions from it. This is, however, essential in order to set up category management in a customer-oriented way.
Category management in procurement
INVERTO has developed an approach that focuses on the holistic strategy of the retail company. In order to optimise the assortment, procurement must become a substantial part of category management, because it is often here that the greatest conflicts arise because the targets and processes of procurement and category management are not aligned, which is unfortunately often the case in practice.
How do we go about category management consulting?
In order to create the basis for successful assortment organisation and planning in the company, we first analyse the assortment. We examine the current performance and the sales potential. In addition, the assortment design of the competition is compared on the basis of article mix, pricing and placement, and an assessment of the market development is made with regard to emerging trends.
Based on the findings, we work with you to develop a strategy for establishing long-term and efficient category management processes. Do you have the right mix of complementary, compulsory and profiling assortments? Are these assortments target group specific? We analyse and optimise area shares and develop a strategy that suits your company and ensures differentiation from the competition.
Companies are subject to constant change. We help you identify strengths and weaknesses in the existing structure and build a high-performance organisation that also takes process costs into account and is in line with your corporate strategy.
The Supply Chain Act, stricter climate targets as well as customer demands for more sustainability present supply chain management with challenging tasks. It is clear that category management, procurement and SCM must work hand in hand to meet customer needs and legal requirements. Transparency must be created throughout the entire supply chain and a risk management system implemented that maps compliance with the new requirements as well as logistical risks.
After a concrete concept of measures has been developed at item level, we carry out professional procurement activities such as tenders and brand negotiations as a team in order to optimise the cost situation and to secure earnings in the long term. Finally, we coordinate POS and online strategies, sales planning and promotion planning with marketing and sales.
Category management in procurement: your result
P&L effective increase in turnover and profitability
Increase in average receipt
Decrease in markdowns
Optimised order and inventory management
Transparency in the supply chain
Our experts in category management
Our category management insights