Plastic tax, ban on disposable bags, CO2 certificates – the politicians have come up with ideas to stem the flood of plastic waste. More and more consumers also take a critical view of conventional packaging. Sustainable solutions are therefore a high priority for retailers, consumer goods manufacturers and packaging producers. High time to create clarity with a study …
Download full study results for free
Significant competitive advantage through sustainable packaging
Everybody wants sustainable packaging, but nobody knows exactly what it is. That's because there are no exact criteria for what it takes for packaging to be sustainable. Yet, the vast majority of the packaging manufacturers, consumer goods producers, and retailers that responded to our survey expect demand for sustainable packaging to increase significantly over the next few years and are therefore on the lookout for innovative solutions.
In line with expectations, 76 percent of packaging manufacturers see sustainable packaging as highly relevant, as do 55 percent of consumer goods producers. By contrast, only 27 percent of retailers view sustainable packaging as a highly significant topic, while a clear two-thirds are more likely to judge the quality of the packaging as moderately important.
In line with this, just 32 percent of retailers surveyed believe that sustainable packaging is a crucial competitive advantage. This is also interesting because most consumer goods and packaging producers feel under pressure from retailers and consumers to create sustainable solutions.
Now, very few goods on the shelves are sustainably packaged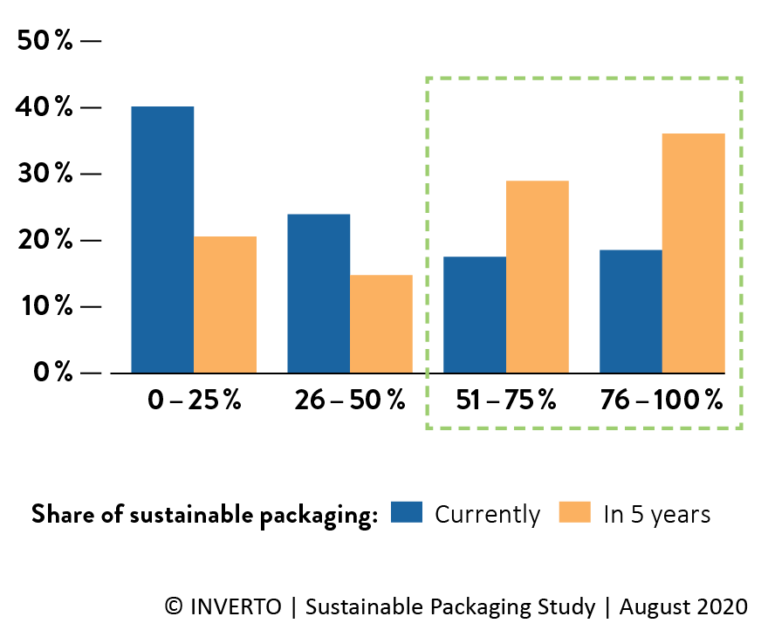 Most respondents say that no more than one quarter of all products currently come in sustainable packaging. However, respondents do expect that share to increase significantly over the next five years. Around half of retailers anticipate the proportion of sustainable packaging to reach between 50 percent and 100 percent by 2025, while the majority of consumer goods producers expect to start using sustainable packaging for almost all their products. Packing manufacturers are more skeptical: 37 percent of them already offer predominantly sustainable packaging, and don't expect any meaningful increase in that share.
Packaging manufacturers more skeptical about
sustainability than their customers
Switching to sustainable packaging entails higher costs for almost all companies, and opinions among respondents are divided on whether they can pass these costs on to consumers. A slim majority believe that consumers are not prepared to pay higher costs, even though they want sustainable solutions. By contrast, 46 percent are confident that the public will meet them at least part way on sustainable packaging.
And the latter appear to have judged things correctly: 72 percent of respondents in a representative consumer survey indicate that they would pay at least 10 percent more for a product if it were sustainably packaged, and almost 30 percent of consumers would even accept a surcharge of more than 20 percent. The younger the respondents, the higher the level of acceptance. Respondents apply the sustainable label here to packaging made from renewable raw materials (70 percent) or recycled materials (65 percent) as well as reusable designs (65 percent). Unfortunately, how consumers respond to surveys doesn't always match their purchasing behavior. Similar studies have shown that while
the public prioritizes sustainability in theory, they are more likely to be guided by price when they actually make a purchase.
How should we define sustainability?
Businesses that want to use more sustainable packaging in the future should start by examining how sustainability is defined in-house. As there are currently no clear specifications for what constitutes sustainable packaging, defining an individual strategy is important. Should new packaging be made from renewable raw materials, for example, or from recycled material? Or is reducing the carbon footprint the priority?
Once a business has decided which aspects of sustainability it wants to focus on, the next step is to define objectives and implementation steps and then to follow them consistently. The procurement department should be involved from the outset, so it can test the market and deliver realistic assessments. As the holy grail of packaging – one that meets all the required product characteristics for protection, stability, and hygiene, but is also 100 percent sustainable – is yet to be discovered, it is essential to set priorities and calculate the potential additional costs of the solutions being considered. It should be remembered, though, that being more sustainable doesn't necessarily mean being more expensive; reducing material
quantities or substituting different materials can save on costs. Once a course has been charted, you can set sail for strategic procurement.

You will find the detailed article, along with other exciting content on the topic of sustainability, in our current magazine "Sustainable Procurement –SHAPING THE FUTURE" as well.
Please fill in the form to receive the INVERTO "Sustainable Packaging" Study 2020:
About the authors:
Paul Mohr
Paul is a Managing Director at INVERTO in Cologne. He advises medium-sized companies and enterprises in the retail and consumer goods sectors on how to optimize procurement processes, restructure supplier portfolios, and reduce direct and indirect spend.
Laura Steinhoff
Laura is a Senior Project Manager at INVERTO in Cologne. She is an experienced buyer in the retail and consumer goods industry, advising customers from these sectors as part of comprehensive procurement optimization projects.