Sustainable Procurement

: Foundations & Guidelines

Formerly a niche topic, sustainably produced goods now appeal to broad customer groups. More and more consumers are also making their procurement decisions according to aspects of environmental protection and social responsibility. The number of investors who significantly include these aspects in their investment strategy has also increased significantly. Politicians are also setting more and more sustainability targets. In view of the increasingly obvious climate consequences, there is also no other choice. Reason enough for every company to set its own sustainability goals and align its procurement with them.
What is sustainable procurement?
Sustainability is defined by the UN World Commission on Environment and Development as "meeting the needs of the present without compromising the ability of future generations to meet their own needs". Also well known is the term "Triple Bottom Line" coined by John Elkington in 1994, which introduces three core elements:
"people"/society
"Planet"/environment
"Profit" / Economy
These three core elements are also reflected in the 17 Sustainable Development Goals (SDGs) defined by the UN – for example, "no poverty" (social), "decent work and economic growth" (economic) and "life below water" (environmental).
Specifically for procurement, the Sustainable Procurement Task Force defined sustainable procurement in its paper "Procurement for the Future" as "a process by which organisations meet their needs for goods, services, works and utilities in a way that achieves value based on a whole-life cycle, providing benefits not only to the organisation but also to society and the economy, while minimising harm to the environment".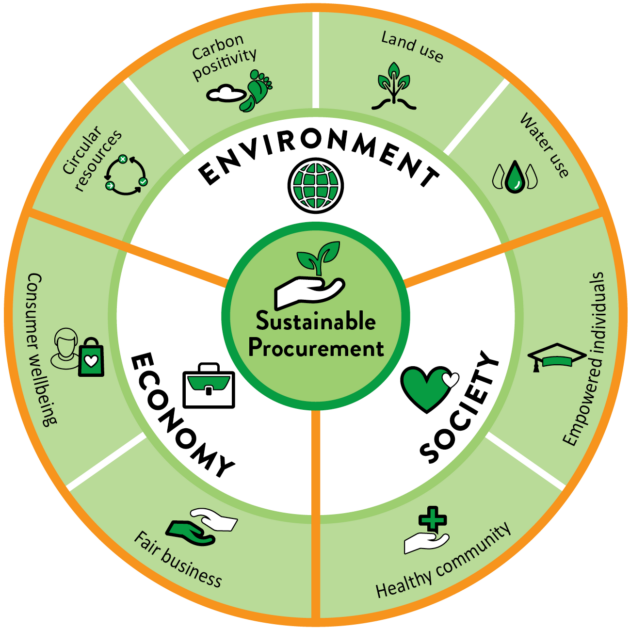 Making sustainability a key pillar in procurement helps to boost your company's performance and improve the quality of your products. It can make your company more innovative and at the same time mitigate risks.
An intelligent sustainability strategy can trigger a development push in your company and release potentials:
Innovate & increase business performance, improve product quality
Better understand and meet customer expectations
Create a positive brand reputation as a basis for pricing and employee recruitment
Be a role model and build stronger ties with relevant stakeholders

Why is sustainable Procurement so important?
Sustainable Procurement is more than a trend, it is fundamental to address in order to be able to achieve success in the supply chain in the 2020s.
In the development of procurement from a cost leader to a driver of sustainability, major steps are imminent – both within the company and, above all, in cooperation with suppliers and supply chain logistics.
5 steps to sustainable procurement
There are exciting steps ahead in the evolution of Procurement from cost leadership to also driving Sustainability – both within the organization and most importantly in collaboration with its suppliers and supply chain logistics.
There are 5 first steps for organizations to take on this journey:
Create transparency of your organization's Sustainability across your complete Supply Chain (Tier 2, Tier 3, … Tier N suppliers)
To become truly sustainable, a company not only has to implement sustainable practices in what they do themselves they also need to ensure that suppliers (and their suppliers, etc.) are adhering to the same standards too. As most companies' supply chains are built of complex systems, it is imperative (and ultimately inevitable) to map their own supply chain in the first place and identify the drivers and/or inhibitors to Sustainability.
Define a sustainability purpose and identify appropriate measures
Each company is different within the industry it is operating in and has its own vision and mission. The same applies to Sustainability. Prior to implementing Sustainable Procurement, a suitable strategy and action plan on Environment, Society and Economy addressing the company's core purpose, values and impact areas must be developed and agreed on. Based on this, actions can be defined and communicated within and outside of the organization, guiding all involved onto the same path to Sustainability.
Initial findings from INVERTO's CPO survey on procurement purpose and impact highlight an increase in the importance of sustainability.
Implement Sustainability initiatives along the supply chain that go beyond compliance
When it comes to implementation, compliance is merely more than a first step. Most companies will get "stuck" in the compliance trap at this point and it is important to take a leap out of this based on the Sustainability strategy and create meaningful initiatives. These initiatives as any project will include timelines, milestones, stakeholders and specified targets.
Engage with third-party organizations to further innovate and develop new solutions
Collaborating with external parties such as research agencies, universities and NGOs but also in industry forums can give the Sustainability a further boost. Companies may not always be able to find solutions on their own and the exchange with third-party will provide fertile ground for new ideas.
Measure and report your success, i.e. with the help of the Global Reporting Initiative (GRI) standards
Finally, it will be critical to quantify the results of each initiative in order to determine the success or any shortcomings. In many cases, the tracking will pose another chalFlenge due to the high complexity that is embedded in the supply chain. The GRI has setup a framework for the reporting with further work needed in order to ensure appropriate and standardized reporting.
On a personal note, there are also a number of changes each of us can make as a consumer – both in our own lives and to further advance Sustainability in the economy. We have repeatedly seen the impact of consumer's choices to push companies to be more sustainable – for example the trends in the food sector moving to local and organic – and this will prove even more relevant in the future.
Contact us to discuss how you can implement sustainable procurement in your company. We are convinced that sustainability should be more than just a point on the CEO agenda!
How does INVERTO approach Sustainablity & Procurement
Identify and prioritize Sustainability concerns based on the supply chain
Integrate Sustainability in Procurement's target operating model and empower the organization
Effectively implement tailored measures across the supply base through Sustainable Sourcing and Sustainable Supplier Management
Measure & report relevant Sustainable Procurement metrics and drive on-going improvements
Our sustainable procurement experts
Our sustainable procurement insights