INVERTO Office
Cologne
"
We

are well prepared for the challenges of the future."

Philipp Mall became Managing Director at INVERTO in Cologne this past summer. He looks after customers mainly in mechanical engineering, process manufacturing, and the automotive sector. As Head of the Competence Center for Procurement Management, he is our expert in procurement organization and controlling, risk management, and digitization.
You joined INVERTO ten years ago this year. Are there any moments that stand out in your memory?
First and foremost, the fantastic colleagues and team I have had the privilege to work with over these ten years. This has involved a truly unbelievable diversity of personalities and teams, which I feel is incredibly enriching. And then, naturally, all the exciting projects and insights into a huge variety of industries and businesses. What really stays with me is those occasions when we as a team were able to solve complex problems with and for our customers. Particularly during the more challenging times we overcame together. My personal highlights each year were the INVERTO annual conferences that bring together all the colleagues and their partners so we can all celebrate our successes and make new plans. Many friendships have developed out of these annual events and have also endured outside INVERTO.
What do you think has changed since INVERTO became part of BCG?
It has allowed us to develop significantly. Building networks with our new colleagues means we have gained an unbelievable quantity of valuable input into our core issue of procurement and SCM, as well as inspiration and new approaches in other areas, including digitization, transformation and change management.
Being stimulated to look more closely at our own work has been a crucial factor in helping us to be even more professional and offer more services than we did three years ago. The same definitely goes for our internal processes, too.
All in all, it has also meant that we have adapted our structures, that the learning curve has become even steeper across all ranks and that we feel better prepared to face the challenges of the markets. And that has also helped us handle the current coronavirus crisis.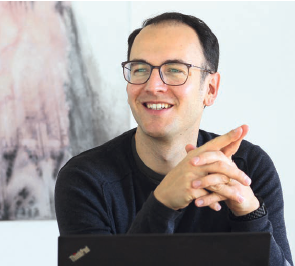 How have you coped with the coronavirus crisis so far and what were your biggest challenges in the last few months?
Thankfully I'm currently leading an extensive project with the same core team. The fact that everyone already knew each other and was used to working together as well as with customers was a huge advantage. But when you work from home, you lose all the personal contact that goes on in the background. So I've done my best to keep the team spirit going remotely and make newer colleagues feel that they are part of the team and that they can still develop and progress in this setting. Equally, we've
also worked hard to make sure that customer contact isn't neglected. Things were actually more challenging at home. My wife and I both work, and the fact that daycare and kindergartens were closed meant that our two young children were suddenly at home all day – that was initially a pretty big challenge, but we managed to handle it fairly well.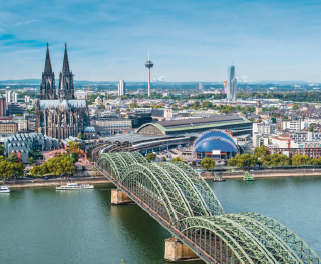 Which trends will shape our daily working lives over the next few years?
New ways of working are a major trend that coronavirus has put firmly in the spotlight. Everyone – business as well as individuals – will have to switch to more agile and flexible working models in the future and rethink processes accordingly. Here at INVERTO, that applies to our work on clients ' premises as well. And that also feeds into our sustainability ambitions and those of our clients: the more tasks can be carried out centrally from the offices, the better that is for our business's carbon footprint.
How do you think businesses have benefitted from the crisis?
Digitization has accelerated at an unbelievable rate, of course, and I think that businesses have become even more aware of the potential opportunities. For procurement, that means an even greater focus on networking with the right experts and service providers, and developing an entire ecosystem of partners.
We will also see an even stronger holistic approach to procurement, and we will focus on making procurement more resilient. As current events show, it is becoming increasingly important that we can cope with the unforeseen and operate in increasingly fast-moving and complex markets. To do this, procurement needs to have the right skills, including effective risk management.
On a trip to Cologne, what should definitely be on our "bucket list"?
Cologne Cathedral is a classic that everyone should visit – take the time to climb the towers and have a guided tour of the excavations in the foundations as well.
Apart from that, I would always recommend exploring the streets in the various Veedeln (districts), trying a few Kölsch beers at a Büdchen (kiosk), then simply going for a stroll in one of the parks in the green belt and chatting to local residents. You can still do that – coronavirus or not – whether you're travelling solo or in a group, with or without children, and whatever the time of day. Because that's ultimately what Cologne is all about – the "Kölsche Art" or Cologne way of life.