The European Union wants to become climate-neutral by 2050, while Germany aims to achieve this five years earlier. The interim goal for 2030 is to produce two-thirds of the energy with CO2-free technologies. Photovoltaics (PV) will therefore experience a significant boom in the coming years.
Four trillion dollars for green energy
The energy industry worldwide is facing an unprecedented transformation: the International Energy Agency (IEA) estimates the cost of the transformation to climate-friendly energy sources at four trillion dollars. Companies will shoulder much of this by transforming themselves from mere consumers to co-producers for their own energy needs, for example by investing in environmentally friendly combined heat and power plants, biogas or photovoltaic systems.
Our experts are familiar with the markets for environmentally friendly energies and advise
Energy companies on how to switch from fossil fuels to renewable energy sources
construction companies that want to include renewable energies in their service portfolio
Companies of all industries that want to invest in renewable energies within the scope of CAPEX projects
LCOE of photovoltaic systems already competitive today
Photovoltaic systems in particular are already paying off today; the electricity generation costs are already competitive thanks to efficient and mature technologies (see chart). The cost advantage will continue to increase with rising prices for CO2 certificates, even if – as is to be expected – prices for plants and raw materials rise due to growing demand.
Photovoltaics is also remarkably efficient in terms of energy input and output: even in Northern Europe, a photovoltaic system has already produced the energy needed to generate it after about one year and three months. In Southern Europe, the break-even point is reached three or four months earlier.
As a specialized consultancy for procurement and supply chain management, we advise you on:
the various PV technologies, their costs and areas of application
markets and suppliers worldwide, through our location in Shanghai especially in China
Solutions for the optimization of OPEX and CAPEX to minimize the energy production costs
LCOE Renewables June 2021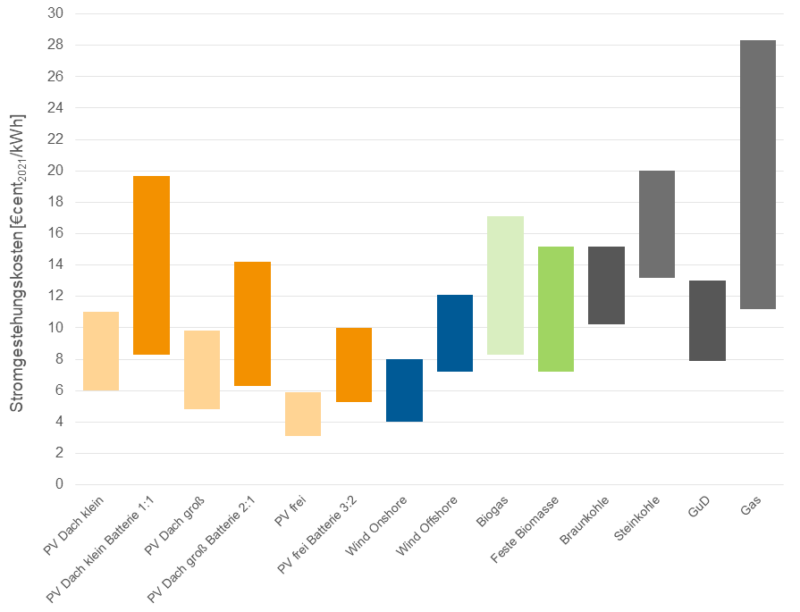 Source:  FRAUNHOFER-INSTITUT FÜR SOLARE ENERGIESYSTEME ISE
Dynamic photovoltaics market environment
Photovoltaics is a rapidly growing market: between 2010 and 2020, demand worldwide grew by more than 30 percent annually, according to the Fraunhofer Institute. To achieve the goal of limiting global warming to 1.5 degrees by 2100, this trend will accelerate. Capacities will not be able to grow at the same rate, especially since the key raw material silicon is also in demand in other contexts – such as the production of microchips.
Another critical factor is Europe's heavy dependence on Asia: Europe builds more than 20 percent of the world's photovoltaic capacity per year, but produces only three percent of the systems itself. 95 percent of PV modules are manufactured in Asia, 67 percent in China alone. In order to benefit from the added value and to ensure availability, capacities should be built up again in Europe. The know-how would be available: Germany was the technology leader in the early years of photovoltaics.
Our energy experts monitor both the dynamic renewable energy markets and the commodity markets. With our market knowledge, the use of Should Costing, Total Cost of Ownership (TCO) analyses as well as our experience in CAPEX projects, we determine cost-optimized solutions for you.
Get to know our experts