With a one-year delay due to the Corona pandemic, the new Medical Devices Regulation (MDR) will become mandatory on 26 May 2021. From now on – and until May 2025 – medical devices certified according to the old standards in the European Union may still be sold. However, the old approval procedures may no longer be used for new products. A similar new regulation will come into force for in-vitro diagnostic products exactly one year later, on 26 May 2022. According to a survey by the software manufacturer Climedo Health, around 45 percent of respondents expect costs to increase by more than five percent.  As experts in cost reduction, we support companies from the MedTec sector to remain competitive despite the increased requirements.
What changes for medical device manufacturers and distributors?
The effort required to re-authorise an implant or other medical device for sale in the European Union increases significantly under the new rules:
Because a new classification scheme has been introduced, manufacturers will have to reclassify their entire product portfolio
In future, clinical studies will be required for many products that could previously claim similarity to existing medical devices
Duties of care and documentation are more demanding and also apply to the supply chain
Distributors who import medical goods outside the EU as distributors will in future be obliged to check the certificates of the products and ensure their conformity.
Both producers and manufacturers of medical technology should intensify their supplier management and establish a structured risk management. The intelligent use of digital solutions in procurement and supply chain management helps to save time and costs.
Timeline MDR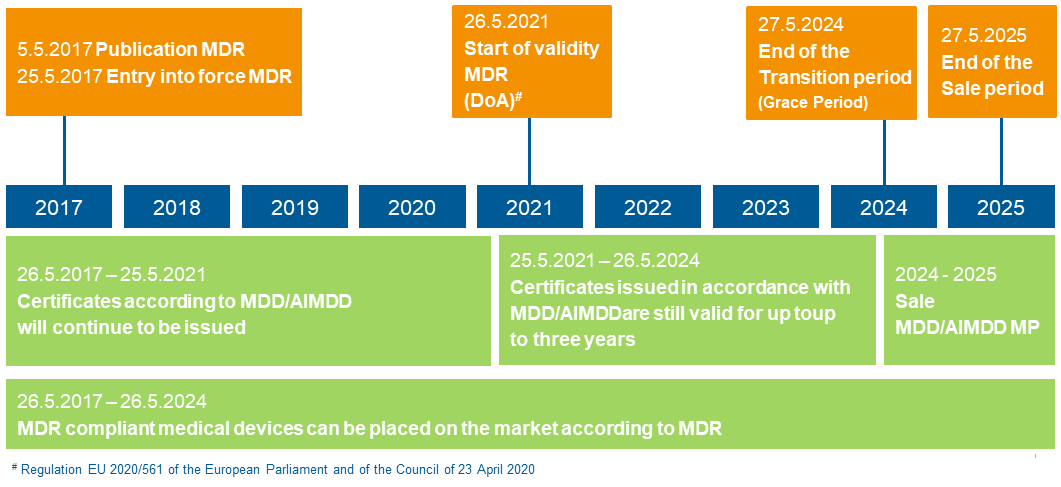 Cost pressure is increasing
For manufacturers and retailers, the new rules mean more time and higher costs. New approaches to cost management are necessary so that these do not lead to declining profitability. We develop an individual programme for you, which we can also implement together with your employees if you wish. With customised procurement training, we support you in sustainably anchoring the newly acquired knowledge in the company.
Do you have any questions or would you like to find out more about our MedTech services? We look forward to hearing from you!