Without new work offerings, companies can't find talents
Emma Stewart MBE is a co-founder of Timewise, a social enterprise and flexible working consultancy that advises companies on how to implement modern working models. She explains how companies can adapt to new concepts, why it's no longer possible to work without them and why even unexpected industries can benefit from them.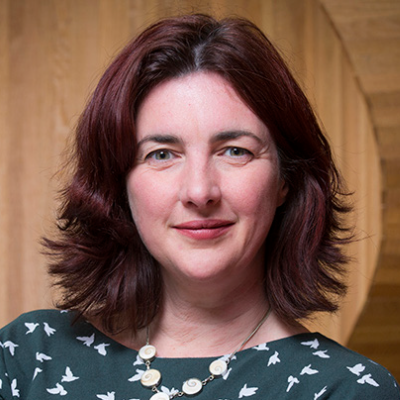 Emma Stewart is development director at Timewise, a social enterprise based in the UK, which specializes in flexible work. She advises entrepreneurs on finding the most innovative solutions for the modern workplace. Previously, she co-founded Women Like Us, worked in the private sector, and was employed in documentary television.
Ms. Stewart, many employees today want to work differently. How is that expressed?
We are currently experiencing a change: a shift from the traditional 9-to-5 structure to flexible hours that fit our personal circumstances. From always working at a set location to working from wherever you want (when possible). From working solely as a means to earn money to working for a bigger goal or purpose. People want to feel a sense of belonging and to feel their value, but first and foremost they want to be perceived and respected as individuals.
You advise companies when it comes to implementing new work concepts. What mistakes do many make?
Systems and processes haven't quite caught up with the cultural pace of change. Even pre-pandemic, nine in ten people in the UK wanted to work flexibly. But just six in ten companies offered it and only three in ten mentioned flexible working in their job ads. We've moved on since then – but not enough. Most companies are vague in their job descriptions when it comes to describing the kind of flexible working on offer, or end up doing what we call flex-washing. This is a term we use to describe flexible working being offered in a job description: but the reality being that the role remains full-time in scope and design. This makes candidates looking for new jobs feel wary of flexible working when it is offered. Is it genuine, will it work out? In research we conducted via our jobsite, nearly half of candidates clicked away from jobs that said they were open to flex. What attracted them were mentions of specific forms of flexible working, e.g. this role can be worked 3 or 4 days per week, late starts and early finishes are possible, or it is open to job share. The more precise an employer can be, the more likely they are to attract great talent. Without any new work offerings at all, companies simply won't find talent.
What could companies do better?
Applicants need clear statements on what forms of flexible working are on offer, for example:
'in our company, you can work at any time of day or from wherever you want'. The same applies to other aspects of new work: we encourage employers to articulate what they are doing in terms of diversity and inclusivity, to talk about their purpose and the future they are trying to build. And most importantly, we encourage employers to reflect inwards and really scrutinize what's going on internally. If people are leaving, do you know why? If they are leaving because they don't have the freedom in their ways of working, or don't feel valued, or don't see a sense of purpose in their work, you need to get that under control before you start looking for new employees.
Flexible working is viewed critically by some managers. How do you respond to this?
Working in a new and different way always means challenging what has gone before. You have to break norms and stigmas that have been established over a long time. It is often said, for example, that flexible working would only benefit the employees, but not the company. This is wrong, as countless studies have shown. Part-time employees or those who work flexible hours are at least as productive or even more productive than their nine-to-five colleagues. Those in charge need to understand that and help change the narrative. It's all about helping the culture to grow.
How long does such a process take?
Psychologists usually say that people need 60 days to change a behavior from scratch. I think it takes much longer in companies, depending of course on the size. Small companies will get it done faster than large ones, and relatively young companies will be even faster because they don't have as many norms and standards yet. On average, we assume that successful change takes at least six months, but it is never really completed. You have to constantly ask yourself: are we working better now? Are we working more flexibly? It's about constant reflection at all levels and being able to take countermeasures when necessary.
What is important to be able to demonstrate success?
You need to collect a lot of data. How productively did the team work before? How effectively does it work after the transformation? How has the level of satisfaction with the work developed? To argue only with a gut feeling is always difficult. It is better to have hard data that proves success through the changeover period.
What role does the leadership team play?
Of course, to implement this in companies, you need strong managers who put the issue on the agenda. But to do that, they also need to have the right tools. Today, we teach our managers how to fill out an Excel spreadsheet, but not how to lead diverse teams across different time zones in hybrid work situations. That's where skills are needed and that's where training is needed. In many companies, it is also the case that there is hardly any proactive change from within the organization. It is usually individual employees who cautiously ask their bosses whether they can work differently, for example part-time or working from home, because they have to care for a relative. Companies should be much more proactive in making offers or at least showing that they are open to suggestions. Otherwise, they will lose talented people who don't dare to ask and are more likely to change companies.
Can role models help create acceptance for the new way of working?
Absolutely, personal experiences are always inspiring. It is important that you as a company focus on different role models from all levels of the organization. It doesn't always have to be the mother who only works part-time because of her children, but also men who report on their flexible working hours. Not just employees, but also managers and directors. That's important for breaking down prejudices and establishing flexible working as something quite normal.
Flexible working does not work in all industries. Can every company still become a New Work company?
Yes, by all means! Even in the hardest to flex industries – some leeway is possible. Of course, a construction worker can't simply work from home. But they may be able to implement some form of time-based flexibility. For example, we worked on a groundbreaking project in Construction in the UK with the industry body Build UK and four major employers in the sector. We tested ways for teams to work different kinds of shifts onsite. Wellbeing scores shot up from 48% to 84% over the course of the 16-month project and the four employers are still rolling out flexible working. We also ran a large pilot with the NHS, in eight wards across three hospitals. Including on wards with patients with intense needs, such as cardio wards. By sharing the duty of rostering shifts out across the team, people's work-life needs are considered more. Often, it's little things that create more autonomy and satisfaction.
Here you can download the magazine for free:
Fill out the contact form to receive the magazine issue. You will then receive the entire issue by e-mail.