Trinity of value creation, resilience and ESG in the supply chain
The Supply Chain Sourcing Obligations Act was highly debated and controversial before it was passed in the Bundestag. The concern was that this law would impose obligations on companies based in Germany that would weaken their competitiveness. We see things differently: intelligently embedded in a company's own sustainability strategy, compliance with the new legal requirements can serve to,
Create transparency in the supply chain with the help of professional risk management
Increase resilience and security of supply in the supply chain
Achieve sustainability goals – also known as ESG goals (ESG = Environment, Social, Governance)
Create innovative products through close cooperation with suppliers
Improve value creation
With the experience from numerous procurement and SCM projects, our experts support you in analyzing your supply chain and in establishing your supplier base in a sustainable way and in compliance with the Supply Chain Act.
A brief performance check shows the extent to which you are already operating in compliance with the Supply Chain Act
Which requirements of the Supply Chain Act are already included in the Code of Conduct, which are missing?
To what extent are environmental and human rights standards already integrated into your category and supplier strategies?
To what extent are environmental and human rights standards already aligned and consistent across all corporate functions?
Have the standards of the Supply Chain Act already been defined and established in everyday processes (e.g. supplier management, procurement)?
Across all categories, are social, environmental and ethical risks identified, classified and known?
Are suppliers already audited in compliance with supply chain legislation and are you integrating the audit into the procurement process for new suppliers?
Which risk analysis tools are already in use? Do these cover the requirements of the Supply Chain Act?
Will the information be checked and updated regularly? Does an active dialog with NGOs/associations take place?
Have you defined qualitative and quantitative KPIs to track compliance, are there escalation mechanisms?
Do you report on your sustainability goals (e.g. CSR reports) both internally and externally?
Legislation on corporate due diligence in supply chain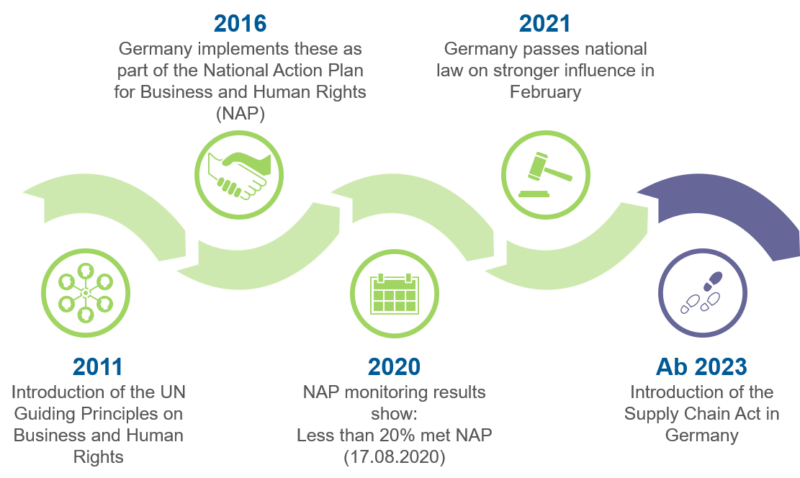 The law obliges companies to review the guiding principles for business and human rights defined by the United Nations (UN) along their supply chain. The aim is to improve the protection of general human rights, for example by preventing child and forced labor or practices that are harmful to health and exploitative. The due diligence obligations extend in principle to the entire supply chain, but are graded according to the influence companies can exert. The law will initially come into force in 2023 for companies with more than 3,000 employees, and from 2024 it will also apply to companies with more than 1,000 employees based in Germany.
The act is not unique to Germany. Similar laws also exist in Europe in France, the United Kingdom and the Netherlands. The European Union is planning its own law, which will then be binding for all EU member states.
Instead of seeing supply chain act as a burden, consider it as an opportunity to create transparency in your supply chain – not only in terms of sustainability, but also in order to cooperate profitably with competitive suppliers in the long term. Procurement plays the role of value driver and interim manager at the same time: In dialog with the team from compliance, quality, operations and other important departments, it develops the commodity group and procurement strategies and is responsible for supplier management. The implementation of regular risk analyses, preventive and remedial measures are also part of the procurement department's tasks.
In our experience, since the start of the Corona pandemic, many companies have established a professional risk management system or optimized their existing one. This risk management now serves as a basis for identifying risks that may arise as a result of the new due diligence requirements. If not already in use, we support the selection and implementation of digital tools that support risk monitoring.
If risks or even violations are identified, it does not always make sense to immediately end the cooperation with a supplier. Instead, targets should be agreed and solutions identified to end any deficiencies. Regular audits and voluntary commitments by suppliers support procurement in incorporating the criteria of the Supply Chain Act into the existing supplier assessment.
In addition to risk and supplier management, we also analyze your company's procurement process and support the implementation of relevant measures at all levels and a holistic communication concept.
We are happy to work with you to develop an adequate risk management system or optimize the existing risk management system with regard to the Supply Chain Act. We support the development of a sustainability strategy that includes environmental and climate protection targets in addition to human rights aspects and design the path to decarbonization with you.
Get in contact with our experts
Our Supply Chain Act insights