As pressure is mounting to increase profits, private equity (PE) firms are turning to operational value creation to achieve their objectives. In particular by optimizing procurement, leading PE companies are able to increase the value of their individual stakes and exploit potential, even beyond corporate boundaries.
Competition in the private equity sector is incredibly intense right now. The high level of liquidity in the market has put investors under pressure to act, which is pushing purchasing prices up. At the same time – and despite the rise in costs – expectations to achieve a return remain high. After a successful acquisition, what is needed is a series of quick, broad and long-term successes. Pure financial engineering and organic growth are no longer enough to achieve the kind of value creation which is required, and which will ultimately determine the future sales price in conjunction with the so-called multiples. "The relevance of operational value creation in private equity has reached a whole new level," says Michael Brigl, PE expert and partner at the Boston Consulting Group. "The most successful investors are very systematic and focused in the way they approach the operational optimization of their portfolio companies, with a view to increasing company value and ensuring a profitable exit in the long term."
In this process, optimizing procurement and the supply chain is particularly attractive, because even small improvements made here have a very positive effect on profit, thanks to the very high cost components. Moreover, implementing these measures is very low-cost and causes little friction in comparison. That means procurement and supply chain measures generate the fastest return on investment.
Huge potential in procurement
Optimizing procurement increases a company's profitability. On top of that, targeted improvements in the supply chain reduce the working capital, thereby limiting the amount of capital required.
The impact of any procurement optimization will depend on where the company is starting from. What's important here are the proportion of direct and indirect procurement costs compared to sales, the company's current profitability, the nature and size of the relevant procurement markets and the degree of maturity of the relevant procurement organisation.
For example, a portfolio company in the chemical industry turns over €100 million per year and must spend a total of €50 million on procurement. By optimizing procurement, annual savings of 5% of the total amount can be achieved, which comes to €2.5 million. Annual profit before the optimization measures amounted to €10 million, so profit has risen to €12.5 million after procurement optimization – an increase of 25%.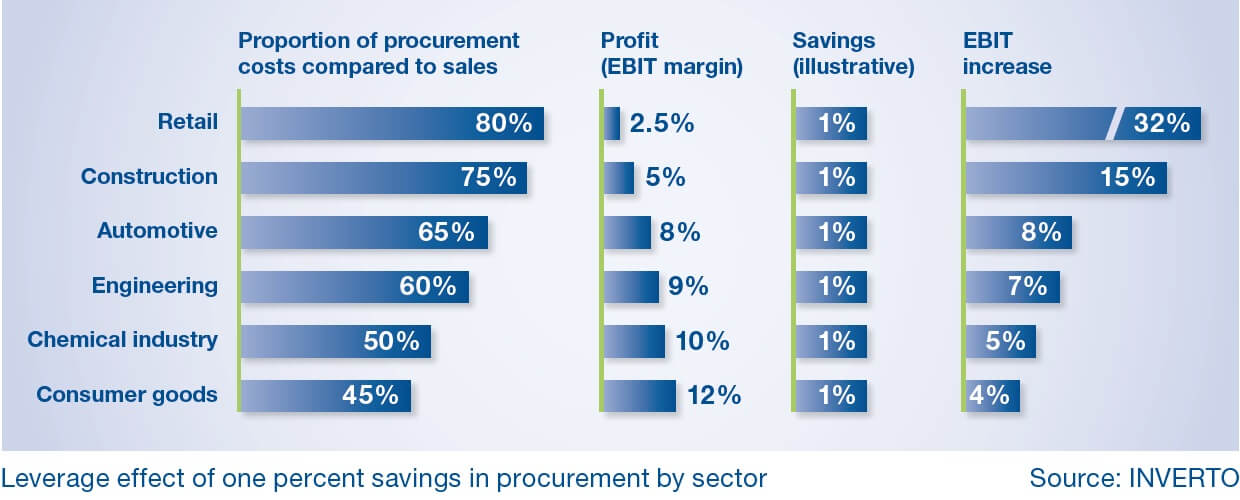 A holistic approach for maximum results
In practice, optimizing procurement operations is a complex process, which involves a variety of decision-makers and other officials. Read the whole article to see what is needed to fully exploit the existing potential to increase the value of portfolio companies trough procurement and supply chain optimization and read our project example.