The economic downturn and the intensification of trade disputes are the dominant themes in this year's Raw Materials Study.
While shortages of raw materials and staff were at the top of the list of concerns for decision-makers last year, economic uncertainty and declining sales are threatening the bottom line this year.
The survey of more than 85 managing directors and decision-makers in procurement reveals, among other things:
– Due to economic uncertainties, participants fear declining sales volumes, which will have a significant impact on the business result.
– Trade barriers increase volatility on the commodity market: 76% of companies consider fluctuating commodity prices to be the greatest trading risk in procurement in the future.
– Concerns about a reduced availability of raw materials are on the decline. Only 56% of the participants expect raw material prices to rise in the next 18 months. The biggest price increase is expected for energy products.
– Due to the expected improved availability of raw materials, companies see no need to actively secure the supply of raw materials. Two thirds of the respondents see the responsibility for the strategic securing of raw materials more in politics.

Download the White Paper with the full results of our Raw Materials Study 2019 including recommendations for action:

External factors and raw materials management
Economic and political influences
Recommendations from our raw materials management experts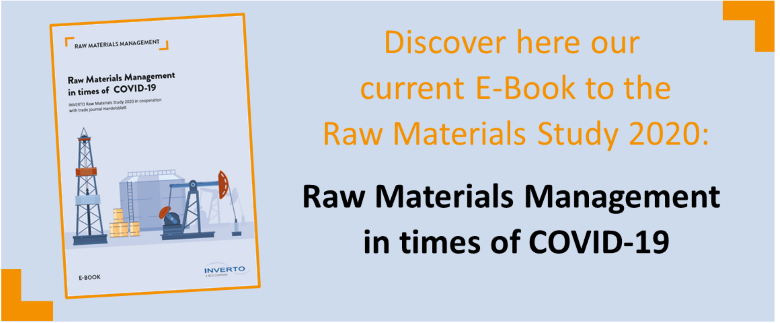 Please fill in the form below to receive the complimentary White Paper: