Maintenance and spare parts management challenge the ability to compromise in many companies: after all, those who are responsible for ongoing operations have a high need for safety. The finance department, on the other hand, will tend to focus on tying up as little capital as possible, while production wants to ensure functionality and therefore wants to have as many spare parts as possible in stock. This means that conflicts of objectives are inevitable.
With interdepartmental cooperation to the right strategy
An overall operational strategy optimises machine running times and cost efficiency in equal measure. The following aspects should be considered:
Maintenance costs: How often does maintenance have to be carried out, how expensive is maintenance?
Running and standstill times: Are there regular periods of downtime or does the machine run non-stop?
Capital commitment: How high are the acquisition and implementation costs?
Criticality: What role does the machine play in production? What are the costs of a breakdown?
Since the answers for the different production units can be different, various measures for maintenance can be derived. It is important to create a valid and transparent database and to make conflicting goals visible. On this basis, the cost-optimised maintenance strategy is finally created, taking into account costs and risks.
Essentially, there are three different maintenance strategies:
Error-based
Interval-based
State-based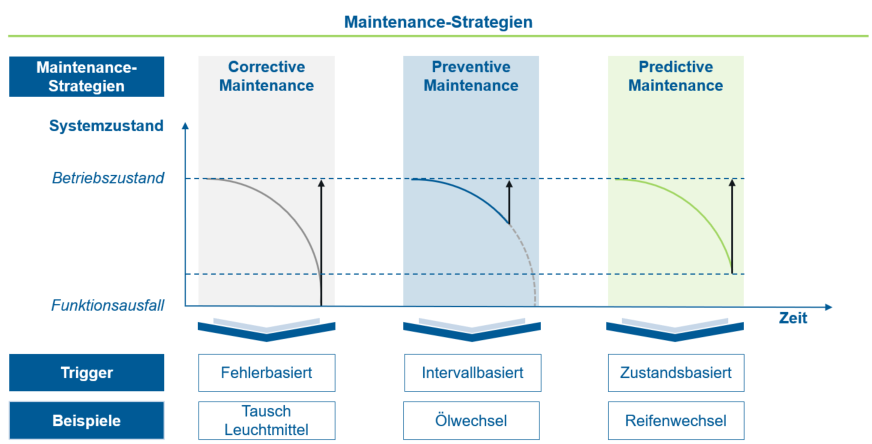 Total cost of ownership: Consider maintenance and spare parts at the time of investment
Maintenance and spare parts management are already determined for the entire life cycle when investing in new machines (CAPEX). Therefore, maintenance costs should be evaluated, negotiated and contractually fixed as follow-up costs within the framework of a total cost of ownership (TCO) analysis. The factors that are taken into account here include
Guarantee and warranty
Prices and availability of spare parts
Maintenance orders and intervals
For larger machine fleets, it is advisable to consider the TCO not only for one machine, but to integrate the analysis into the overall maintenance strategy.
CAPEX procurement is not an everyday and standardised task, especially in medium-sized companies, so there are often no established processes for it and the know-how is lacking. Thanks to its extensive experience from many projects, INVERTO can advise on procurement and support with best-practice solutions.
Managing spare parts: Large or small warehouse? Smart warehouse!
Spare parts warehouses have the unpleasant habit of growing uncontrollably and thus insidiously tying up more and more capital. In view of the large number of different parts, there is nevertheless a risk that required objects are not available, as inventory lists are often not well maintained and there is rarely digital inventory management. But transparency is the central basis of spare parts management.
In order to optimise inventories, material- or commodity group-specific inventory strategies should also be developed for spare parts and consumption-optimised inventory quantities should be defined. In a three-stage, tried-and-tested process, INVERTO provides support from the evaluation of the actual inventory to the creation of the concept and implementation of the strategy in order to close existing gaps in spare parts management and reduce capital commitment in the long term.
Trade maintenance
Maintenance and spare parts management affect both manufacturing companies and retailers. Retail companies have equipment that requires regular maintenance and spare parts, such as cash registers and treadmills, storage equipment or – in the food trade – freezers and refrigerators.
While in manufacturing companies customers rarely stray into the factory halls, in retail everything is designed to meet the customer. This has a serious impact on maintenance: scheduled maintenance can only take place outside opening hours, which severely limits the available capacities. Especially larger retail companies with many regional locations could benefit from setting up their own maintenance teams, as these are usually more flexible to deploy than external service providers.