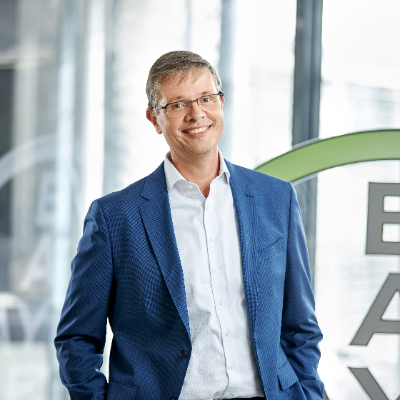 "If you want to go far, go together."

Thomas Udesen is CPO at Bayer. In this interview, he talks to us about changes in procurement, how a Life Science company with core competencies in the areas of healthcare  and agriculture can become sustainable, and why he is actually teaming up with the competition to make this happen.
Mr. Udesen, if you look at the current situation when it comes to sustainability in business, what stands out to you?
There are two very different groups in business, with entirely different views on the importance of sustainable procurement. The first refuses to face up to the issue,  consistently taking a defensive approach, with sustainability only a secondary consideration. They delay implementing regulations or measures as much as possible and exert,  at most, the minimum of effort – and usually only to avoid getting into trouble.
These companies aren't focused on long-term planning and a better future, but on short-term  financial interest. They leave the big issues such as climate change or inequality to other people – and to the next generation.
And how would you characterize the second group?
These are the businesses that have understood how important the issue is, and how important it will remain. They've grasped that it will play a deciding part in whether they  can continue to be successful in the future. .
They've also recognized that sustainable procurement is by far the most significant lever to improve products, drive innovation or even safeguard human rights
Download the magazine to continue reading the entire interview:
Fill out the contact form to receive the magazine issue. You will then receive the entire issue by e-mail.