Efficient Procurement Software

with Powerful Features
The e-contor Sourcing Suite significantly increases the impact of the tender. Decentralized requirement information is aggregated and published as a whole. All buyers adhere to the same standard, ensuring a high degree of transparency. Effective e-sourcing also facilitates the coordination and management of business processes.
e-contor Sourcing Suite's functions, interfaces and reports are based on our many years of consulting experience in procurement and supply chain management. e-contor has proven effective in the daily business of our consultants by providing efficient handling and structured workflows in the strategic procurement process.
e-contor consists of three modules: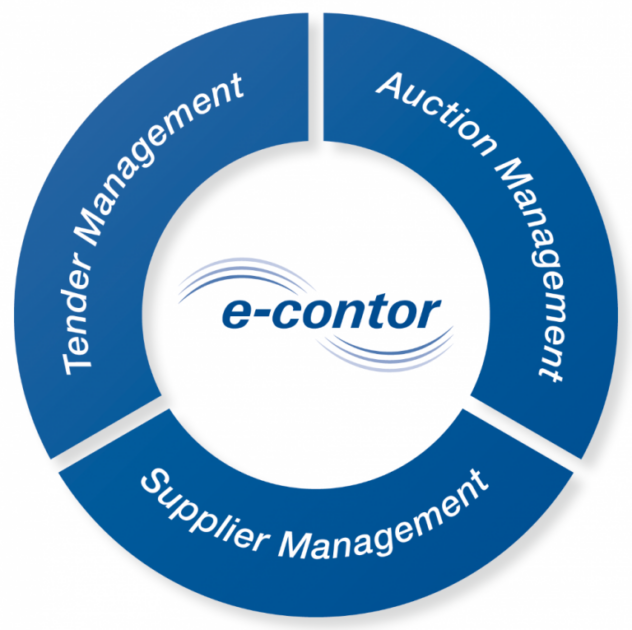 Tender Management
Procurement requirements can be specifically assigned by e-contor Tender Management through tenders, including the ability to add all participating suppliers, enter necessary specifications, and create proposal forms. The selected suppliers can then access the system with their unique login credentials and submit their proposals electronically. The resulting price, performance and quality reports make it fast, simple and easy to compare the submitted proposals.
Auction Management
Auction Management complements the conventional tender by enabling fast and simple auctions. Three auction types are available, namely, Reverse, Rank and Dutch. In each auction type different auction parameters can be configured with just a few clicks by the buying agent. The progress of the auction and the bids placed by suppliers are clearly displayed and can be viewed live.
In the Reverse Auction, bidders underbid each other by defined minimum price steps based on a predefined starting price. The best offer is displayed at all times.
The bidder with the lowest price at the end of the auction is awarded the contract.
The Rank Auction is similar to the Reverse Auction. However, the bidder only sees his or her rank in the list of bidders, irrespective of the price distance from the best bidder.
The bidder in 1st position at the end of the auction is awarded the contract.
In the Dutch Auction, individual price steps are specified by the buyer. The first (unrealistically low) price is gradually increased by pre-set price steps in predefined response times.
The supplier who first accepts a displayed price receives the contract and ends the auction.
Supplier Management
Tender Management and Auction Management are then expanded into integrated Supplier Management, allowing you to quickly identify the right suppliers for your different tenders. Registered suppliers can maintain their own profiles, which reduces a source of errors and allows general data and contact information to be updated. In addition, suppliers are automatically assigned to a detailed product group structure when releasing a proposal for a certain demand, either manually via procurement or automatically when submitting a proposal. e-contor therefore supports your entire tender process.
The advantages of the e-sourcing tool e-contor
Innovative procurement software solution in e-sourcing
Modern and secure software technology
High implementation speed and time saving
Easy to use, minimal training required
High acceptance by suppliers
Flexible setup and low administrative effort
Our expert in e-sourcing
Our digital insights