Find the Right Solutions with the Digital Solution Navigator
According to a survey by German digital association Bitkom, 37% of all companies have major problems coping with digitization. Even in procurement, decision makers face countless issues.
Most companies already know that digitization is a long-term process that cannot be achieved in one fell swoop. But this raises the question of where to start, and what is best suited to a company's specific structures; after all, there is no one-size-fits-all solution. Companies should not create standalone solutions. A fully digitized company will only work efficiently if all the processes are interlinked and the software used in different areas is integrated.
So, it is important to question your own processes, to recognize their current level of maturity, and to consider strategic procurement goals. Only then can you define the next steps in digitization and decide on the appropriate solutions.
Determine your current situation and your goals first
Your company's level of procurement maturity can be determined by looking at six different areas. A comparison with your peer group (companies of a comparable size and line of work) as well as with strategic goals in procurement will show how well developed your procurement department is, and where the largest gaps lie. You could also use further analyses and benchmarks to determine the value of individual categories' contributions to strategic procurement goals.
For a deeper analysis of your procurement's digital maturity, you can conduct a survey including not only decision makers but also representative employees. Management should also be asked about digitization goals. The results can be analyzed using various indicators, and then compared with your peer group. This is how your company can find out what stage of the digital transformation it is at. Management will also be able to find out how employees feel about procurement's digital maturity and how open-minded they are to further development.
The areas where digitization will be worthwhile can then be defined, based on the survey results. This can be done in workshops, where you evaluate the outlay and impact, and develop a roadmap for implementation.
Identify the right tools with the Digital Solution Navigator
A company's first move should be to implement digitization projects that bring quick wins. The Digital Solution Navigator is ideal for pinpointing which tools are appropriate. It provides an overview of software solutions and their functions in a total of 14 action areas. It also helps companies to navigate the vast supply maze. Continuously screening suppliers on the market and engaging with them regularly ensure the DSN is always kept up to date.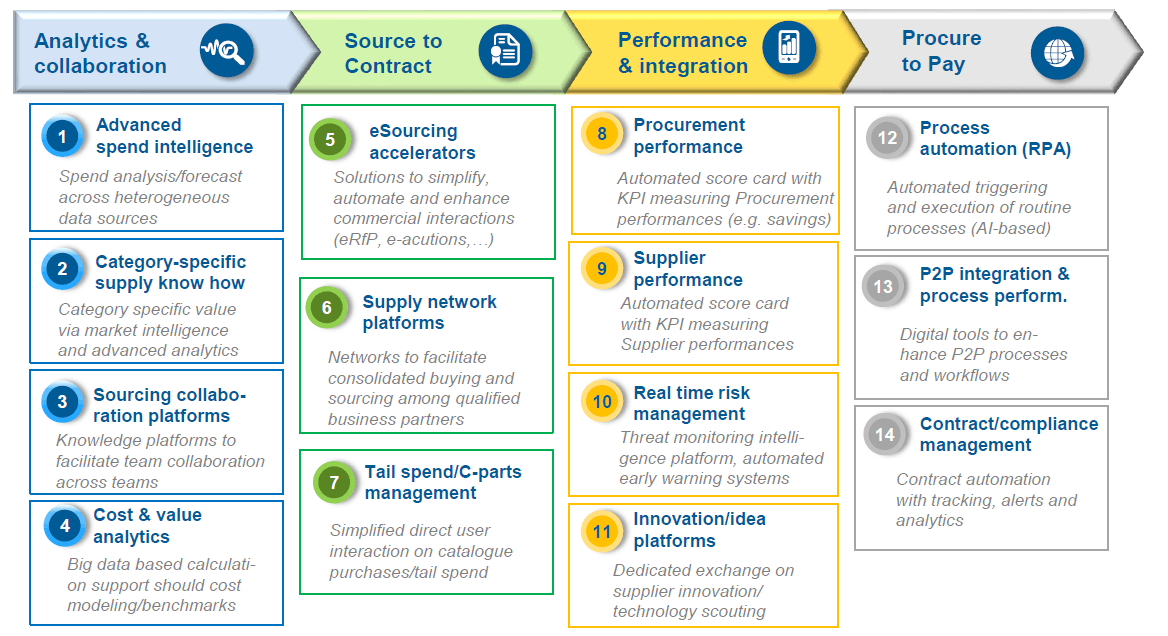 Possible uses for digitization in procurement
One of the first steps in procurement digitization in many companies is the Procure to Pay process. This entails introducing catalog solutions, integrating suppliers into platforms or directly into ERP, and automating the billing process. We can use the example of an international airport that introduced a Procure to Pay system to optimize internal processes to prove that this can bring significant improvements. The system increased transparency and efficiency through automation, and the maverick buying rate went down by 30%. Making the invoice process, from receipt through to payment, was another of the company's goals. This reduced invoice processing time by 80%. Significant savings were also made by applying automatic discounts.
In the past, however, many companies have developed standalone solutions and media inconsistencies. These require time-consuming manual actions and can be prone to error, making it a better option to switch to a consistent system. With so many tools evolving and new providers appearing on the market, it is worth regularly reviewing your software landscape for possible improvements.
Read the full article in our digital magazine and receive detailed information about the Digital Solution Navigator:
How to use Advanced Analytics to improve strategic purchasing and tap new potential
Learn how e-Sourcing Accelerators can increase the efficiency and effectiveness of the source-to-contract process
How Robotic Process Automation (RPA) can massively reduce processing times
Here you can get our digital magazine including the full article for free. Further topics in the magazine:
Procurement Transformation
What really matters
Study: Optimizing Procurement in Portfolio Companies
Clear-cut goals lead to better results
Company News: Successful start in Sweden
Interview with André Thuvesson, Managing Director of INVERTO in Stockholm