Finanza della catena di approvvigionamento nell'industria di processo
Working capital optimization at a leading chemical company
Our client is a globally active german chemical company. The group operates more than 20 production sites in Europe, America and Asia and distributes silicones and polymers in over 100 countries.
Objective: Extension of payment targets
Times on the world market are uncertain – flexibility is the order of the day. But in order to be able to react flexibly, high liquidity is indispensable. We were commissioned with the objective of optimizing working capital and significantly extending payment targets for our client. At the beginning of the project, our customer's payment terms were just over 30 days DPO (Days Payable Outstanding), whereas the industry average was close to 60 days. In order for the company to approach this, we initiated two different methods.
Structured negotiations and reverse factoring
In the first part of the project, we conducted payment target-specific negotiations with the inventory suppliers and were already able to significantly expand our customer's average DPO through this. However, the fact that the suppliers we spoke to were in turn trying to optimize their working capital created contradictions. To resolve these and leverage even more potential, we introduced a completely new approach for the customer – supply chain finance or, more precisely, reverse factoring. This method not only secures the company's own liquidity, but also that of its strategic suppliers.
In reverse factoring, a company hands over its supplier's receivables to an investor (including banks), which provides interim financing in return for a fee that is lower than the refinancing rate. A fintech provides the platform to which investors, suppliers and companies are connected.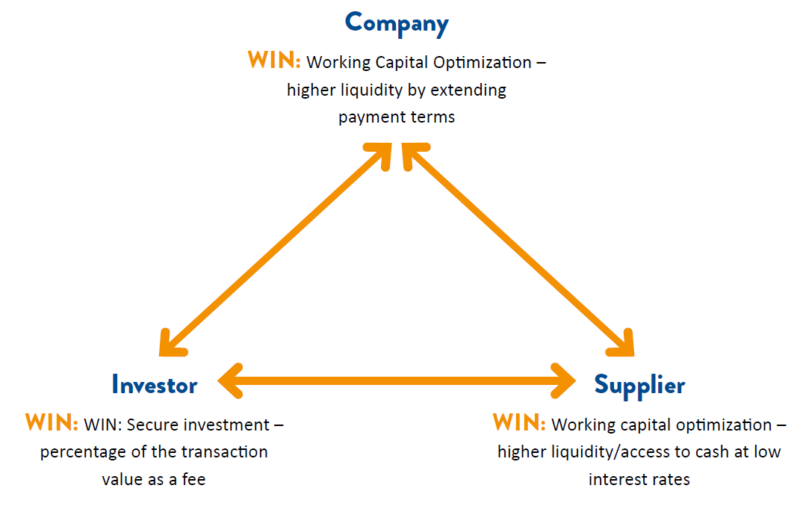 We supported procurement in the RFI and RFP process and conducted negotiations with various platform providers. In the implementation process, we helped to set the course internally for the roll-out by defining internal processes and responsibilities, establishing escalation levels, and training the procurement organisation specifically on supply chain finance.
In the next step, we worked with the chemical group to identify the suppliers we wanted to invite to reverse factoring as pilot suppliers. What was important here was, on the one hand, the previous business relationship and, on the other, the financial stability of the suppliers. Through open discussions and the communication of mutual advantages, we were able to successfully connect the first suppliers to the selected supply chain finance platform and to further expand the payment terms for our customer.
Find out more in our customer magazine
Results:
Extension of payment terms to industry standard
Successful implementation of supply chain finance platform and reverse factoring methodology
Pilot suppliers connected to new system
Strengthened relationship with key suppliers