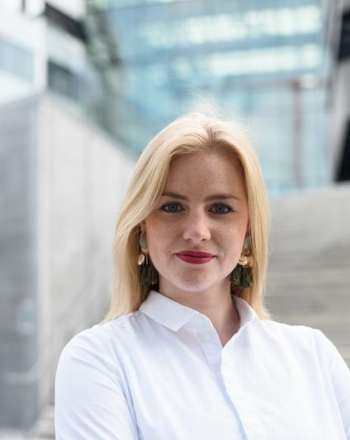 Hello, who are you and what brought you to INVERTO?
My name is Laura Steinhoff, I am a project manager at INVERTO, 31 years old and live in beautiful Hamburg.
Throughout my studies (I studied Fashion & Textile Management in Hamburg and International Fashion Marketing in London with the help of two full scholarships) and my professional activities, it was always important for me to spend a lot of time abroad (among others in Vancouver, Hong Kong, London, Sydney) and to always focus on procurement-related topics in the consumer goods and fashion sector, because this is where I truly found my passion. I gained my first work experience through internships (including Tchibo, Otto Group, Marks & Spencer), working student jobs and an international trainee program at Gebr. Heinemann.
I was contacted via LinkedIn mid 2019 if I would like to deepen my focus in procurement consulting and join INVERTO. After a few conversations with the very friendly INVERTO HR and a successful application process, I decided to accept the offer. I had previously worked in a procurement consultancy and as a senior buyer for perfume & cosmetics at a large travel retailer and saw a good fit between my previous work experience and INVERTO's focus on retail and consumer goods.
What are you doing at INVERTO?
I am a senior project manager and assigned to the Retail & Consumer Competence Centre. Within the framework of the CC, I have, among other things, written a white paper on the topic of "Sustainable Packaging" and set new standards for brand negotiation projects. I am currently writing an article on the topic of "Supply Chain Law" and supporting various pitches and proposals in the consumer goods sector on topics like Indirect & Direct Spend or Sourcing Mapping.
Do you have a favorite place and why is it your favorite?
As a "Northern German", one of my favourite places is a very specific pier on Sylt in a heath meadow, with direct access to the sea and nicely hidden from tourists.
If you could choose, which supernatural power would you like to have and why?
I would like to be able to beam myself from A to B – even though I love travelling more than anything, I would like to save myself the endless hours in economy class on a plane, when travelling abroad.
Which concert have you visited lastly and how was it?
Thinking back to the "good old" pre-Corona time: In 2019, I spent three days at the "MS Dockville Festival" in Hamburg with my two best friends.
Discover further People Stories