Almost every company knows this: Actually, there are precisely defined, IT-supported processes for routine activities like the Procure-to-Pay (P2P) process – and yet they often do not run as smoothly as hoped.
If the differences between target and actual activities become too great, it can become expensive. Deviations from the defined process occur, for example, because orders are only created after the invoice is received ("maverick buying"), ordering processes take too long or price changes have to be entered manually. Process Mining helps to track down such inefficiencies and to optimize process flows.
Transparency by using the "Spaghetti Diagram"
Process mining technology uses and visualizes data from existing IT systems in the company. Using the log data (so-called event logs) recorded by the existing system, the process mining software makes the employee's steps and the times of the activities visible. Thus the actual variety of processes becomes transparent.


Since the visualization usually resembles a jumble of lines, the diagram generated by the process mining software is also called a spaghetti diagram. If significant deviations from the defined processes are detected, the visualization can be used to identify and eliminate problems.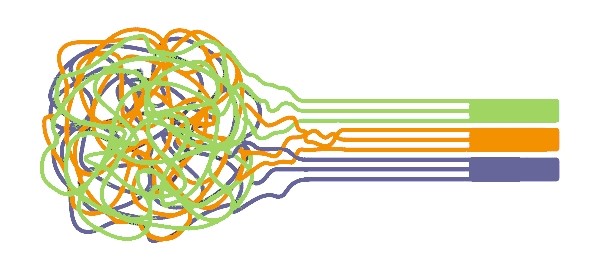 Use in P2P processes is promising success
The Procure-to-Pay process is a typical field for the use of Process Mining. The software starts in the ERP system. The visualization allows for identifying opportunities for improvement.
In our experience, process mining in procurement can reduce process costs in procure-to-pay by an average of 25 percent. The Maverick buying rate is also reduced by up to 15 percent and discounts can be used about 40 percent more frequently.
The use of Process Mining also achieves remarkable successes in logistics and supply chain: for example, on-time delivery can be increased to over 95 percent.
Example: Purchase-to-Pay (P2P)

Example: Logistics and Supply Chain

The use of a process mining software makes sense if
Employees often have to intervene manually in automated processes. One reason can be poorly maintained master data.
Invoices are to be paid repeatedly without an order or contract ("maverick buying"). This can be remedied by framework agreements with existing suppliers.
There is generally a high organizational effort and more efficient processes are necessary.
Practical example: New conditions are negotiated with an existing supplier, but not immediately entered into the system. Since the deliveries invoiced under new conditions do not match the stored data, the system stops the process and an employee has to intervene.
The fact that ERP data is often poorly maintained is just one of the findings when using Process Mining. This is where a change in awareness can help: data maintenance may be annoying, but it saves a lot of time compared to constant intervention in an automated system.
The visualization of processes using process mining is always only the first step. Drawing the right conclusions from the data obtained, finding sources of error and developing better solutions is the actual task that follows the use of process mining software.
We are happy to advise you on optimizing your procurement processes, logistics and supply chain management using process mining.