From 1st January 2017, INVERTO will operate independently as part of BCG. As it pursues new growth strategies within BCG, INVERTO's three managing partners will continue to lead day-to-day operations alongside the firm's other managing directors.
Read the interview with founders Kiran Mazumdar, Frank Wierlemann and Markus Bergauer (left to right) and find out about the background of the transaction with the Boston Consulting Group from the perspective of INVERTO.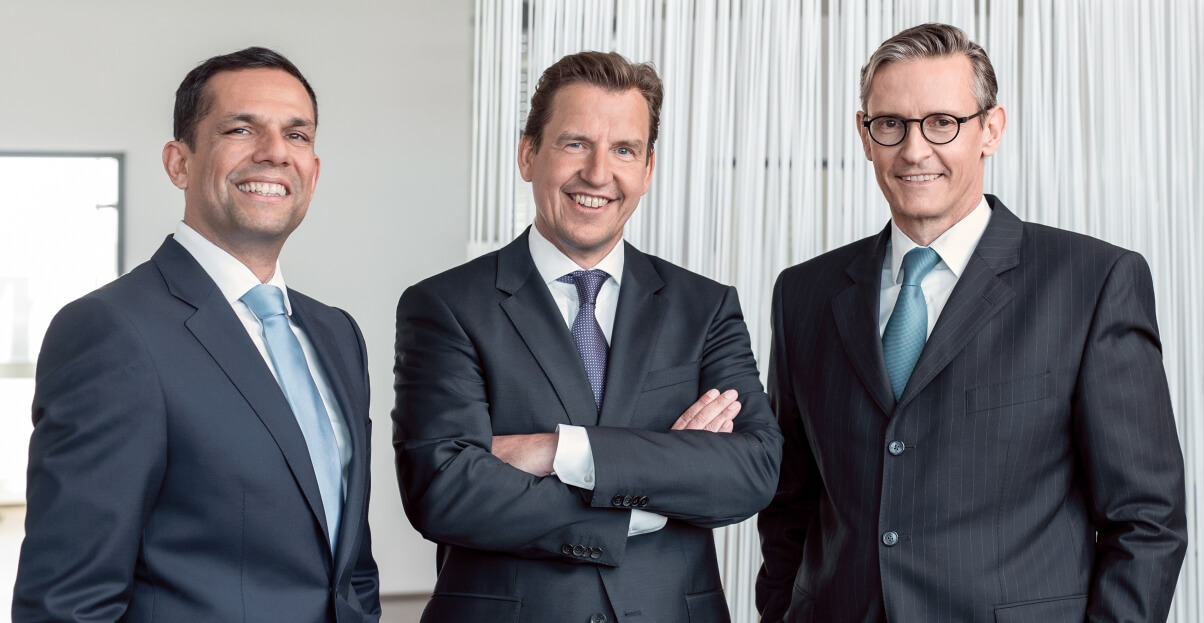 1. What will the takeover change for INVERTO customers? How will they benefit from the collaboration?
Our proven business model remains the same, as does our operational work, and our customers can still contact us in exactly the same way. There will be no changes for our customers in the daily business, but they will obviously notice improvements, such as the benefits of a global network, or the constant improvement of our databases and benchmarks, due to a larger number of projects and a wider range of customers.
2. Your primary customer base is medium-sized companies (the "Mittelstand"). Are these customers likely to lose out in the future, as you will be focussing mainly on corporate customers?
Not at all! We have a very strong reputation and a fantastic customer base in medium-sized businesses, and we will expand this even further in the future. But at the same time, our joint growth strategy also includes the aim of developing another group of customers, which hold significant potential for us: European corporations and blue chip clients.
3. Will INVERTO remain independent or be merged with BCG?
This is very important: INVERTO will continue to operate as an independent company under the BCG umbrella. Its name and logo will also remain unchanged. This was the premise agreed by both parties – us and BCG – and in our mutual interest.
4. Will you be primarily preoccupied with yourself in the near future, as is the case with many other mergers?
Again, to clarify: this is not a merger requiring complex integration, as INVERTO will remain an independent company. And, as the merger is expected to be completed by the end of the year, subject to the approval of the Office of Fair Trading, we have enough time to prepare all of the necessary steps without any pressure. We can therefore continue to focus our energy on our customer projects.
5. Who will lead the company in the future?
As the company's founders, we stand for continuity of management. We are focused on and motivated by the long term and will continue to lead the company with our existing management team. Not only for a "holding period" of a few years, but for the long term.
For us, this transaction in no way represents an end or an exit, but rather the beginning of a new chapter in the company's history. We will seize the new opportunities that the cooperation gives us to closely align with BCG on strategic issues, as this will really help us to achieve our ambitious mutual growth objectives.
6. What were INVERTO's main motives for merging with BCG?
Our specialisation in procurement and supply chain management has established us as a leading player in the market. However, we strongly believe that our entrepreneurial business model still has considerable potential for growth, both internationally and in terms of going beyond our primary customer group of middle-sized businesses. Gradual growth is not enough for us to fully exploit the existing growth potential. We want to achieve more, and faster, too. This is why BCG is the perfect partner, both suiting us in terms of content and possessing the expertise and experience to considerably accelerate our growth. We see significant synergies for both sides, so it is a real win-win situation.
7. What kind of synergies?
INVERTO will benefit from BCG's excellent customer base and global network, as well as from its industry and subject expertise, and from the experience it gained from the incredible story of its own growth. The considerable strength of the BCG brand will also be extremely helpful in our recruitment activities. And for our part, we have a great team of 130 specialists and have, over the last 16 years, built up knowledge of procurement and supplier markets which perfectly complements BCG's existing expertise. As a result, we round off BCG's range of procurement and SCM services and enable it to operate as an end-to-end provider in the Operations space.
8. How have your employees reacted to the transaction?
We have many long-serving employees; our leadership team has been with us for over 8 years on average. Our employees identify very strongly with the INVERTO brand and are passionate about what they do. Admittedly, the news that INVERTO would become part of BCG did cause a bit of a stir at first, but we openly discussed how this would work with our employees and set out our reasons for this decision. Our employees clearly see that targeted growth and further internationalisation will inevitably give rise to development opportunities for each and every individual in the company. In recent weeks, a positive atmosphere has developed within the company, which takes us back to what it felt like when we founded it all those years ago.
9. How much did BCG pay for INVERTO?
We have reached an agreement that guarantees the long-term commitment of the founders and the management team. The purchase price was not, therefore, a key issue. Prospects for growth are the decisive factor for us, our employees and BCG. Let us emphasise once again: INVERTO is an extremely successful and profitable company, which we are very proud of, and the merger with BCG gives us a great opportunity to take the next big step in our development and move forwards on our chosen path of growth. We are very much looking forward to it!
10. Where do you see INVERTO in 5 years' time?
Content development is paramount for us. We want to consistently open up new industries and geographies and substantially expand our service portfolio. We consider the aim of doubling our turnover and workforce to be entirely realistic. Our goal is to grow our base of satisfied customers significantly through successful projects.