Align your risk management and procurement strategies with the new framework of global supply chains
Capacity and supply bottlenecks are a problem for almost all survey participants. The risk of rising prices for intermediate products and increasing energy costs is doing the rest. Companies are hard pressed to put out these fires. Long-term investments in « fire protection » seem to take a back seat.
In our annual survey, we shed light on how risk management in procurement is positioned – also in view of the Supply Chain Act – and which risks are currently prioritized – across industries and countries.
What are the risks in procurement?
Basically, risks in procurement include all potential events that do not go according to plan and can have a significant influence on pricing, security of supply or quality. For professional risk management, the risks in procurement should first be identified. The following risks have the highest priority right now:
Supply bottlenecks
Shortage of skilled labour
Price increase for intermediates and associated services
Rising energy prices
Change of government in Germany
Brexit impact
Digital backwardness in your own company
Extract from the Risk Management Study 2022: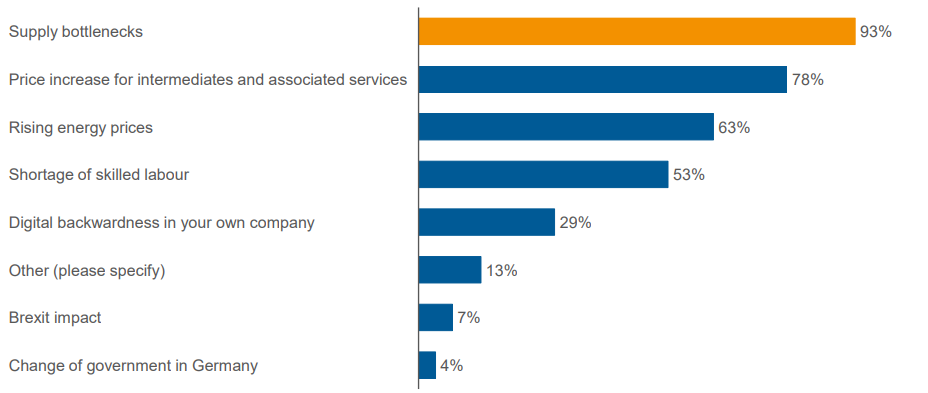 Supply bottlenecks, price increases for intermediate products and rising energy costs are cited as the biggest business risks. The vast majority continue to see a (very) large impact on purchasing prices due to Covid-19, with stronger increasing cost pressure. For 44% of respondents, the Supply Chain Act has relevance, but few are in the process of implementing it. The proportion of respondents who systematically record risks has fallen compared to the previous year. Given the turbulence in almost all supply markets, it is surprising that the number of those using digital tools for risk prevention and monitoring has remained almost unchanged compared to the previous year. While many see the securing of supply as a success of risk management, prices could not be stabilized.