The success of a business model depends on numerous factors. In many cases, efficient cooperation with contractors is crucial. In practice, however, the potential of strategic management of service partners is often not fully utilised. An INVERTO study identifies challenges, success drivers and approaches.
From the selection of suitable partners to the clear definition of the services required to ensuring that they are executed in line with requirements: Procurement teams can and must shape the relationship profitably. In Contractor Management, the focus is often on short-term savings rather than a joint increase in performance efficiency.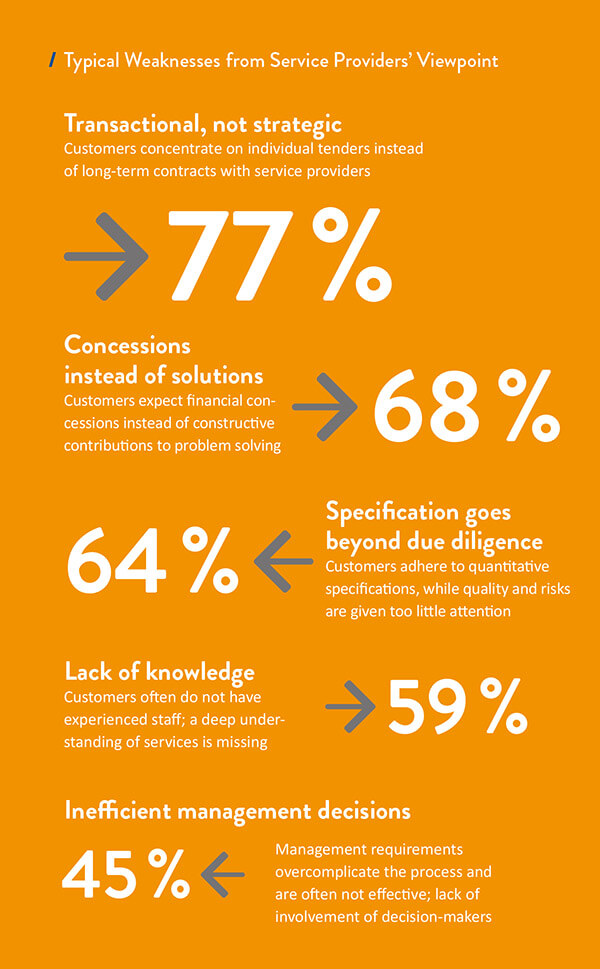 The survey of service providers and buyers on the ideal economic design of service relationships confirms the need for action. For instance, 77% of the surveyed service providers criticize the awarding of individual contracts without strategic coordination of common interests. Tendering processes are often perceived as more formal and less content-related. A discussion of alternative service concepts, for example, is often neglected. From the perspective of the service providers surveyed, this results, among other things, from limited knowledge of the services actually required. For a long-term supplier relationship, however, a holistic view of the processes and roles of the parties is required.
In order to achieve successful cooperation with service providers, procurement should take four factors into account
The complete article, including a description of concrete steps for a successful design of service relationships, is available as a free download below.
Here you can get our digital magazine including the full article for free.
Further topics in the magazine:
The CAPEX Phenomenon
Achievement of goals through active use of procurement competencies
Risk Management
Political turmoil threatens Global Supply Chains
Company News
INVERTO moves closer to customers in European Markets
Please fill out the form to receive our magazine:

[/col][/row]