The pictures that went viral around the world were astonishing yet frightening at the same time. Planes parked in hangars or on the tarmac. Freight trains halted at stations. And from a
bird's eye view, the world's oceans looked in some places like a game of Battleships: row upon row of them, anchored in ports across this planet.
Reducing costs in Procurement: EMERGING stronger from the crisis
The months of standstill and lockdown have led to some bizarre situations. What can an airline do if it is not allowed to fly? What can a factory do if it cannot produce anything because it is missing parts that it normally sources from all over the world? What can a restaurant do if no guests are allowed to dine? For many companies, this phase has been an economic disaster. For others, it has meant watching from the sidelines, hoping that their industry will not be impacted next. In either case, it is now as important as ever for companies to streamline their operations and drastically cut costs to protect turnover as well as margins.
Step 1: Determine and leverage your own position
Step 2: Managing demand and implementing immediate measuresn
Step 3: Managing demand and implementing immediate measures
Step 4: Optimizing costs throughout the supply chain in the long-term
Demand & Budget Management: How to avoid unnecessary expenses
Demand guidelines
Demand control
Operating life
Elimination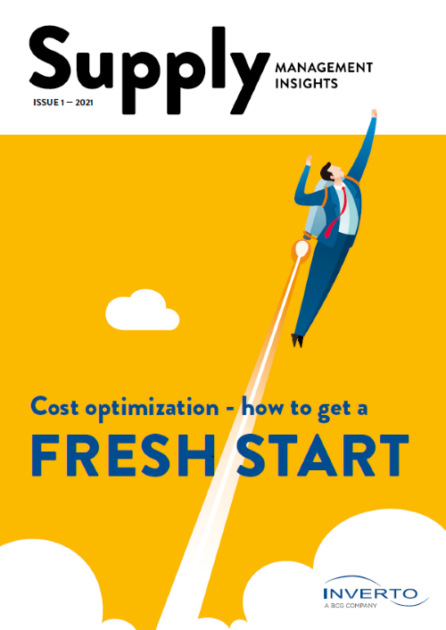 In our magazine issue SMI 01 2021
Cost Optimization – how to get a FRESH START
you will find in-depth information on the four steps as well as explanations and
examples on demand & budget
 management. Download the complete magazine free of charge by filling out the contact form (see below).
Read editorial
Dear Readers,
Current lockdowns are clearly slowing down the economy. It is currently difficult to predict when the real upturn will come. But experts agree on one thing: There will be no return to the conditions before Corona. To master a perfect fresh start,
companies will have to adapt to the new circumstances.
Since many companies suffered revenue losses during the crisis, simply rolling over budgets will not achieve their goals. Companies should re-evaluate their cost structures in the context of the current economic situation and make use of professional measures to reduce costs in procurement. We explain how this works in practice in our cover story.
Another factor in gaining more financial freedom of movement is optimizing working capital management. An INVERTO study shows that there is often still
untapped potential in this area.
Private equity investors have also recognized the value of large-scale optimization projects in companies. In our desk research, we found that portfolio companies
are significantly better off than their competitors in terms of sales and operating profit.
Enjoy reading and stay healthy,
Thibault Pucken, on behalf of the Management Directors
CONCLUSION
The coronavirus pandemic has hit companies hard in some cases, either on top-line, on supply, or both. Whether a company has lost or gained from the crisis, now is exactly the right time to reorganize and optimize cost management. This includes immediate measures as well as long-term strategies. In addition to establishing a stable and cost-effective supply chain, procurement
must also anticipate how markets will change in the future and take trends such as digitalization and sustainability into account. This is only possible if the internal arrangements are right, procurement is based on sound analyses, and the best possible use is made of the company's own position, for example through classic negotiations or auctions. Only those who position themselves correctly now can hold their own in the long-term.
Read in the cover story of our digital magazine how to put this into practice and learn in our expert interviews what role cost reduction in procurement plays in companies.
Other interesting contents of the magazine issue:
Spare Parts Management – Spring cleaning that can pay dividends
Restructuring and Competitiveness – "The Partners in the Ecosystem Need to Pull Their Weight"
Performance of Private Equity Investors Generating Sustainable Profit
Working Capital Management How to achieve financial freedom despite the crisis
People @ INVERTO – INVERTO Office France
Request the complete magazine issue for free in digital form now:
About the Authors:
Marcus Schwarz
is Managing Director of INVERTO's Copenhagen office. As an experienced procurement specialist with extensive product and industry experience, he primarily advises clients from the retail and consumer goods industries on cost reduction programs and procurement process optimization.
Daniel Gilek
Daniel is a Principal at INVERTO in Stockholm with over a decade of experience in advising Nordic industrial and energy clients in comprehensive transformation and cost reduction programs.