Private equity firms have long been seen as ruthless profit-seekers who are rarely interested in developing their portfolio of companies in the long-term. They may be derided as profit-seekers, but it seems that these financiers still create opportunities. Our desk research into the performance of portfolio companies proves that they significantly outperform their competitors without private equity involvement.
Download the full analysis for free
Significant increase in value in the first 5 years
erman politician Franz Müntefering of the Social Democratic Party lamented in an interview in April 2005 that: "Some financial investors never think about the people whose workplaces they destroy – they remain anonymous, faceless, descend like swarms of locusts on companies, strip them bare and then move on again.
They still have their critics, even today – for example, in the study published in January by the Hans Böckler Foundation on how companies owned by private equity firms develop in Germany,
which focused on the negative trend of equity capital ratios and number of employees at multiple companies across all industries that had been bought by private equity firms since 2013.
We have found that these results do not apply to portfolio companies in the industrial goods or process industries, as they experienced a significant increase in value in the first five years after being acquired. Portfolio companies achieve more than twice the EBITDA and revenue growth compared to companies from these industries without PE participation.
This observation applies across the full five years and the gap widens from year to year. For example, the sales of portfolio companies grow by an average of 28 % during the period under review, while companies without PE participation achieve 13 %. The difference for operating profit (EBITDA) is even graver, with portfolio companies achieving 42 % growth and other companies having to settle for 9 %.
If we compare the number of employees, here, too, the portfolio companies are ahead: their headcount is growing faster than that of their sector peer group, at 12 % compared with 9 %. The only time we saw staffing levels fall was when we restricted the analysis parameters to portfolio companies where the focus was purely on restructuring.
Costs down, profit up
The disproportionate growth in EBITDA relative to revenue identified at portfolio companies – 42 versus 28 % – demonstrates that gains are being achieved not only through accelerated revenue growth, but also through improved cost efficiency. In contrast, profitability in companies without a private equity stake falls as sales rise: while the rise in sales is 13 %, the growth in EBITDA
is just 9 %.
A closer look at costs reveals that private equity firms start optimizing costs soon after they acquire a company. The focus here is specifically on other operating expenses, relating to indirect demands such as facility management, IT and marketing expenditure, and so on. A significant reduction in other operating expenses is already visible from the second year (T2) after the acquisition of a portfolio company. Within five years, other operating expenses fall by an average of 9 %. This optimization is a significant factor in the disproportionate growth in EBITDA.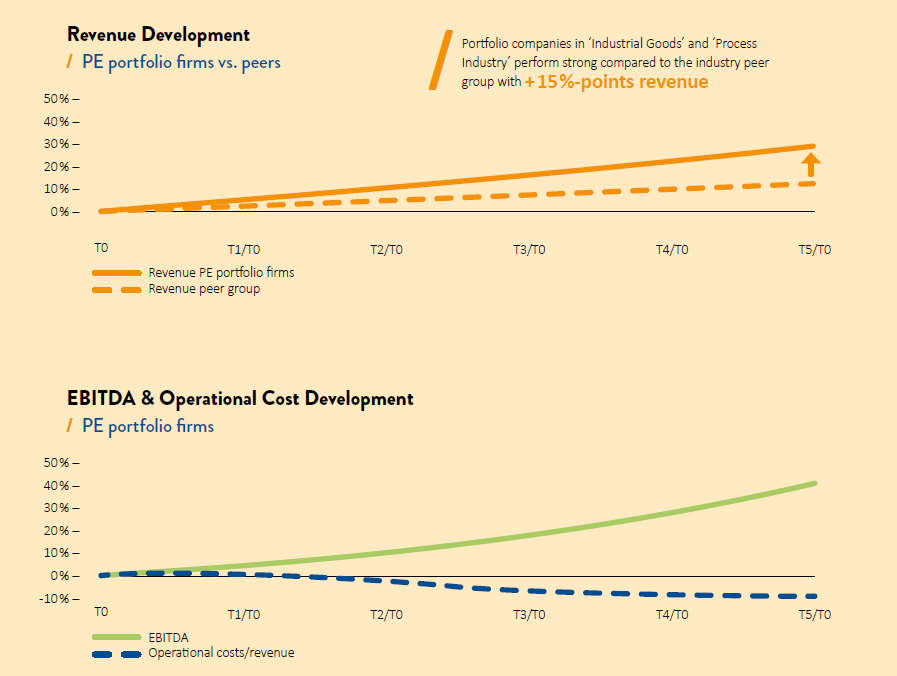 (Download the entire analysis free of charge for a detailed graph including all values.)
Actively identifying and applying levers to reduce costs
If companies want to increase their operating profit, they don't need to be taken over by a private equity firm before launching optimization projects. However, the significantly better results from portfolio companies do demonstrate that applying their strategies will pay off.
Below are some examples of promising approaches to reduce costs in the long-term:
Shifting the focus
Consolidating suppliers
Standardizing or re-specifying requirements
Actively monitoring raw materials
Using index-based contracts
Request the complete results presentation now free of charge in digital form:
About the authors:
Stefan Süßenguth
Stefan is a Principal at INVERTO's Munich office. His clients include international industrial companies and well-known private equity firms. As head of the Competence Center for Principal Investors & Private Equity, he is also an expert in due diligence, operational value creation and cross-portfolio optimization in procurement.
Torben Menzel
Torben is a Project Manager at INVERTO in Cologne. He mainly manages projects in the industrial goods and process industry sector, and also supports the Competence Center for Principal Investors & Private Equity. As an expert in quantitative methods, he played a significant role in analyzing the portfolio companies.
Get in contact with our expert