The coronavirus pandemic and all the supply risks that it has brought should have been a wake-up call. Our latest Raw Materials Study reveals, though, the majority of businesses still do not operate professionally enough when it comes to raw materials management. Supply reliability is undervalued and the current low price levels are seldom taken advantage of.
"Troubleshooting" vs. professional risk management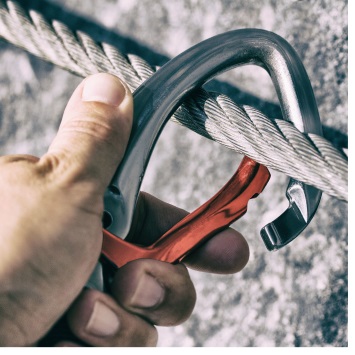 Though the coronavirus pandemic has disrupted or even destroyed supply chains worldwide, most of the respondents in our latest Raw Materials Study are not particularly worried about the supply of raw materials. Demand has fallen worldwide amid the crisis, and this in turn has led to excess capacities and significant discounts. But this situation remains largely unexploited in procurement.
Over half of respondents complain about bottlenecks in the supply chain, and a third say that it is now harder to predict raw material supply. Countermeasures most often adopted by businesses include working with new suppliers, shifting volumes between existing suppliers, and setting up a "war room" to react quickly to delays. These measures are actually more about troubleshooting rather than professional risk management.
The problem with all this is that many businesses lack transparency along their entire supply chain. As many companies don't procure their raw materials directly, but instead buy primary products, they don't have detailed knowledge of the raw materials they are purchasing. As a
result, they lack the understanding they need to be able to manage these raw materials strategically and optimize costs.
Achieving transparency
A buyer's most important job is to have a detailed overview of primary products and their supply chain. As these are often complex, this can only be done by active supplier management and close collaboration with strategic suppliers. Through their input and data – e.g. performance indicators relevant to production, raw material availability, or delivery times – you can monitor the supply situation and, if necessary, implement measures that will immediately be effective. At the same time, procurement needs to regularly carry out checks on suppliers, particularly with regard to performance and credit rating
Professionalizing raw material management
To ensure that the transparency you have created can also be used in the long term to actively protect against risk, it's essential to constantly update and monitor your data. It can be helpful to use business intelligence and real time risk management tools that are continually fed data from strategic suppliers via an interface. However, to date, few businesses (27 percent use these measures, although 42 percent of respondents think that business intelligence tools are appropriate for professionalizing raw materials management. This gap in digitization could be down to the amount of time and expenditure needed for implementation, but the effort does pay off.
Once the infrastructure is in place, the tools help significantly to protecting against risk. When defining risk factors and determining KPIs and warning signals, buyers have the option to react
to changes in real time, and to select a pre-defined set of strategies to secure supply.
Based on COVID-19, do you expect opportunities for raw material cost optimization through negotiations with your upstream suppliers?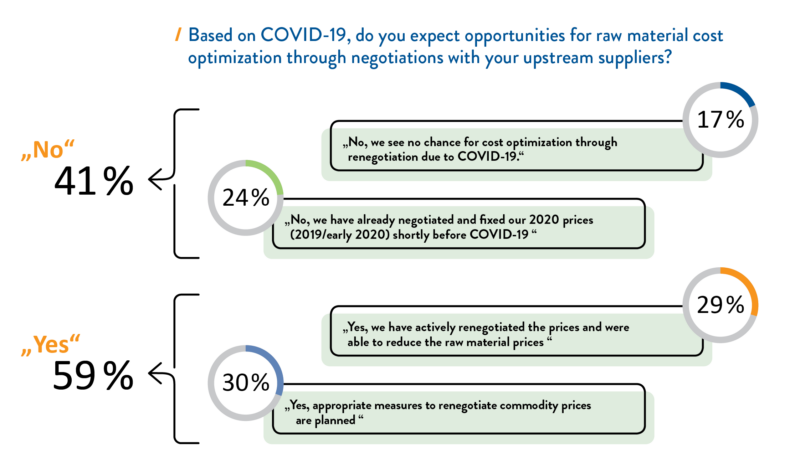 Testing pricing models
Plastics, chemicals, aluminum, and iron are the most important raw materials, according to study respondents. Given the price drops in oil as well as most metals, the number of respondents who say they could profit from this is low at 29 percent In many cases, this is due to long-term contracts. 24 percent of study participants state that they had agreed fixed prices before the pandemic
began and were not able to take advantage of the slump in the market. Long-term price agreements are basically a good solution as they make it possible to plan costs, but
conversely, they restrict a raw material buyer's scope to negotiate.
An analysis of raw material price history and a comparison with the prices actually paid can reveal discrepancies and form a starting point for negotiation. Buyers should also consider the option
of negotiating terms and conditions retroactively. Ultimately, no one could have foreseen the pandemic and the price drops that have come with it. It makes sense to stipulate price variation
clauses in long-term agreements and link price models in with commodity indices from the outset.
CONCLUSION: Need for action in the professionalisation of raw material purchasing
COVID-19 presents businesses with considerable challenges; as well as delays in the supply chain and declining sales, they also have to deal with more unpredictability in raw material supply. This shows that action is very much needed to professionalize raw material procurement, if companies are to be better prepared to deal with crises and challenges in the future.
You will find the detailed article, along with other exciting content on the topic of sustainability, in our current magazine "Sustainable Procurement –SHAPE THE FUTURE" as well.
Please fill in the form below to receive the complimentary E-Book:
About the authors:
Sebastian Wellmann
Sebastian is a Principal at INVERTO in Cologne and is head of the Industrial Goods and Automotive Competence Center. In this role, he is responsible for the Raw Materials Study. The business studies graduate advises customers in the automotive, plant & mechanical engineering, and transport & infrastructure sectors.
Justus Brinkmann
is a Project Manager at INVERTO in Cologne and is an expert in raw material procurement at the Industrial Goods and Automotive Competence Center. He supports leading chemical companies and industrial businesses in optimizing their procurement costs.