"What's your story David!"
Hello, who are you and what brought you to INVERTO?
My name is David, I am 28 years old and I was born just outside of Copenhagen. I was raised in a smaller city called Smørum, before moving to Jyllinge. The fun thing about these two cities is that there are bike paths all over the place, so I am used to getting around on two wheels and if I have the time, I use my two legs instead.
Throughout my studies, first in the commercial direction with a focus on entrepreneurship and economics and then in production engineering, I worked in an IT department and in a local grocery store. With the IT department, I arranged a few LAN gatherings both in collaboration with the university and a local youth organization.
Then I went out into the real world, with a highly specialized machine shop, working to optimize everything related to producing printing presses.
In order to stay just a little bit in shape, as well as the biking, I used to play water polo, and ran and swam too.
What brought me to INVERTO… Well, the fact that we don't just make PowerPoints, but engage with the client, develop and execute a strategy in collaboration with the client.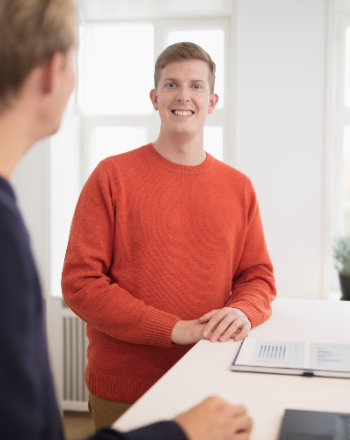 David Engquist
Consultant

What are you doing at INVERTO?
Working out of the Copenhagen office as a consultant, I've recently become an expert in plastic manufacturing and different kinds of metal casting (Sinter, MiM, 3D printing and casting): right up my street as a production engineer!
Do you have a favorite place?
Traverse City, MI, USA – absolutely beautiful place!

Of course you found your dream job at INVERTO, but if you hadn't, what would you have done?
I would go into farming: insects, micro-greens and fish.
Who was your childhood hero?
Dexter! That smart little redhead genius!