"What's your story Cynthia?"
Hello, who are you and what brought you to INVERTO?
My name is Cynthia and I'm a consultant in the Cologne office. Originally from the rural Sauerland region, I moved to the beautiful city of Cologne for my Master's degree in CEMS International Management after completing my Bachelor's degree in Dortmund. Since then, I haven't wanted to leave!
Besides my master studies, I got involved in the PIM&CEMS Student and Alumni Club, which brought INVERTO to my attention, as we organized a negotiation training together. The topic and the openness of the INVERTO consultants appealed to me directly and I subsequently applied as an intern at INVERTO, starting in June 2020. Since then, I have stayed with INVERTO with minor breaks (traveling, studying…), first as a working student and now as a consultant. In short, I have always come back and never regretted it.
Besides working at INVERTO, I like to do sports. I always use the morning for yoga, jogging or HIIT workouts. This gives me a little time for myself before work to clear my head and start the day fresh. Otherwise, I love to travel, which I will tackle again right after the Corona time, maybe with a leave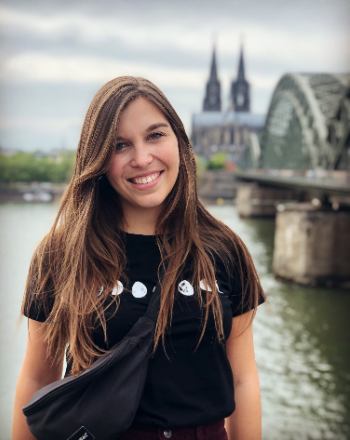 Cynthia Busch
Consultant

What are you doing at INVERTO?
Because I had already been an intern and a working student before, I was able to get to know INVERTO from different perspectives. As an intern, I was immediately considered a full-fledged team member and was able to independently take on responsible tasks. These included data analysis and benchmarking and the preparation of results presentations. In this way, I have already gained a lot of experience that has made my start as a consultant much easier. I also gained valuable insights through my work as a working student in internal knowledge management, for example about tools and best practices. These experiences also help me in my daily problem solving.

What was your best birthday present and why?
My own Kölsch. I have been given a beer bottle (of the best Kölsch Mühlen, of course) by a total of 30 friends with a personal message and a photo as a label.
Do you have a favorite place (country, city, room ,..) and why is it your favorite?
Besides the most beautiful city of Cologne (Kölle), I love Barcelona. Whenever you spend a few days there, I can highly recommend the viewpoint Bunker del Carmel!
If you could choose, which supernatural power would you like to have and why?
I would love to be able to beam back and forth between places. A lunch break at the beach would be something nice!