Sebastian Wellmann, Principal at INVERTO, tells us about his role and current project
At what stage of your career did you join INVERTO?
I started at INVERTO as a consultant after graduating from my Business Administration degree.
Why did you choose a career in consulting?
Supply chain management was one of my specialisms at university. All of my internships and my thesis were also always to do with procurement. I enjoy working with new companies (particularly those in industry) and like to travel. I have found my perfect employer in INVERTO, a consultancy specialised in procurement. I find the fact that your performance can influence your career in consultancies very attractive. This is definitely not possible to such an extent in line management roles and companies with fixed hierarchical structures.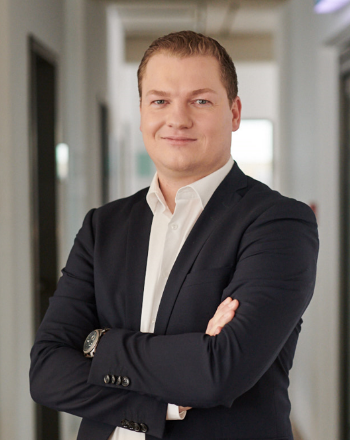 What has been your biggest success at INVERTO (so far)?
The majority of (project) success at INVERTO can be attributed to the methodologies and approaches that have been established over the years. Experience is one of the keys to INVERTO's success. Great personal success can always be achieved by either making your approach successful over a long period of time against all obstacles or providing the client with added value in what initially appear to be unpromising situations.
So far, all my projects have also been great personal successes. I remember how, in my first year – and quite unusually for a consultant – I would spend time every week sorting through incoming goods from a new supplier I had sourced for our client. I wanted to show the client that it was a good supplier. The client was already thinking about replacing the supplier, but it is now one of their highest-performing suppliers.
Another example was a negotiation in the electronics sector, where, without any significant alternatives, I managed to get the existing suppliers to reduce their prices by about half a million euros, a result that came as a total surprise to the client.
And what was the biggest challenge?
The biggest challenge for me has been negotiating in the steel product group. We negotiated an annual requirement of around 40,000 tonnes of steel distributed across approximately 100 items in parallel with several renowned suppliers, successfully reducing and fixing the price. The success was only made possible through perseverance and overcoming obstacles.
What questions are you often asked by clients?
The most common questions are about INVERTO's co-sourcing approach, which is used in the majority of projects. The co-sourcing approach involves working with the client to reduce procurement costs and conditions for certain product categories. The all-important question then is: how do I actually achieve the projected savings? We work alongside the client to solve this problem, covering issues such as the best (existing or new) supplier, whether the product must be changed (e.g. construction or material changes), whether the client should perhaps make the product themselves (make-or-buy decision) and where to source items (low-cost country sourcing).
Creativity is often needed for this. Anything that helps to achieve the goal is most welcome.
What are you doing in your current project?
In addition to negotiations in the steel group and a comprehensive cost reduction programme, we are also shaping large-scale restructuring for the client in terms of its in-house manufacturing. We are evaluating the best procurement options for strategically important components and checking possible investment in new machines, among other things, to achieve independence from suppliers, reduce costs and build important skills for the client.
What is your biggest challenge when it comes to client guidance?
Every client is different. Most of the client's employees like to work with us, see the positive effects and results and see collaboration as an opportunity. However, because the projects are mostly decided by the management or procurement manager, everyone is not always happy with the decision. Some employees have concerns at the beginning of the collaboration. Our task is to show them that it's an opportunity for the entire department and we want to work with them to improve processes. In the end, we are all working together to make the project a success. Inspiring everyone to do this is a significant but vital challenge.
Which characteristics and competencies should a consultant at INVERTO have?
INVERTO is primarily recognised as an efficient and competent implementation partner. If you bring a high degree of efficiency, a can-do attitude and the ability to be a team player, you will fit in well. As a project manager, you should bring a healthy amount of self confidence to enable you to deal with uncomfortable situations in a constructive manner.