Experience report: Anas describes his first 100 days at INVERTO
A lot can happen in 100 days … especially in the first 100 days at INVERTO
As an expert in operations and supply chain management Anas started his career at different logistics and consumer good companies. After reading an article about INVERTO opening an office in Sweden, he became curious. A good 100 days ago, Anas joined INVERTO and this is what he says looking back:
After a few roles within FMCG, Logistics Services and Technology, I decided to join the consulting industry. I was looking for a unique firm that has a strong present and a limitless growth potential at the same time. I still remember when my search led me to an article about "BCGs newly acquired INVERTO offers its services now also in the Nordics".
I read the article and browsed the website thoroughly, and It made me even more curious. I emailed INVERTO Sweden's MD André Thuvesson to learn more about the firm and got a reply the next morning: He invited me to come to the office for a coffee chat.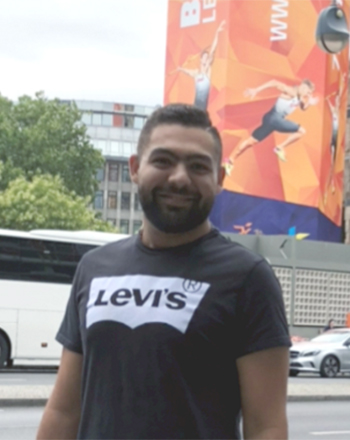 The first days at INVERTO
Skipping one year forward, I'm joining the firm as a Consultant at the Stockholm office in September 2020. My first days at INVERTO were full of introductions and onboardings, followed by trainings in Supply Chain Management and Strategic Procurement as well as Excel and PowerPoint to prepare me to hit the ground running on my first project.
Eager to start, I joined a team working on a transformation project for a leading industrial goods manufacturer in Europe. I led multiple tender initiatives, analysed a make-or-buy case and worked on a network optimization assessment, in addition to participating in strategic negotiations with key suppliers. Most interesting to me was to see how my work contributed to the bigger picture of the project and added value to the client through strategic cost savings and improved EBITDA.
My project team was a mix of colleagues from INVERTO's offices in Stockholm, Copenhagen, London and Cologne. Despite a virtual set-up – due to the COVID-19 pandemic we couldn't work at the client's site as we usually would do – we worked together effectively and had a fair share of fun, too.
At INVERTO, project work can be only one part of a consultant's contribution to the firm. The well-maintained start-up environment provides a wider horizon of responsibilities and empowers everyone to own and participate in side initiatives. In my case, I got involved in a firm-wide employer branding and talent acquisition initiative that aims to attract talented graduates in Europe.
Conclusion after 100 days
Looking back at my first 100 days, it is fascinating to see how steep my learning curve has been and how strong the bonds are that I developed with my talented and supportive colleagues.
If you would like to learn more about working at INVERTO and talk to other consultants, please join our webinar.