Julia Berhard, Project Manager at the Cologne office, talks about culture, projects and motivation
What brought you to INVERTO?
I came across INVERTO at one of the Maastricht Business Days events while I was an undergraduate. After I had finished my Master's, it was clear I wanted to work at a consultancy so I could work on a diverse range of projects and constantly tackle new challenges. I wanted to specialise in procurement & supply chain management and go beyond simple concept and solution development. I chose INVERTO because of their focus on implementation, their approach to projects and the INVERTO team spirit that had really appealed to me in the interview.
How would you describe the culture at INVERTO?
Open, honest and helpful. There is a real culture of feedback, which is direct and constructive, and it goes both ways, so you always know where you stand. The flat hierarchies also make it easier to exchange between all levels. So, sometimes, one of the managing directors will ask me in the hallway how the current project is going or what I personally think of the takeover by BCG. I can ask colleagues for support or input at any time, and they're always genuinely happy to help.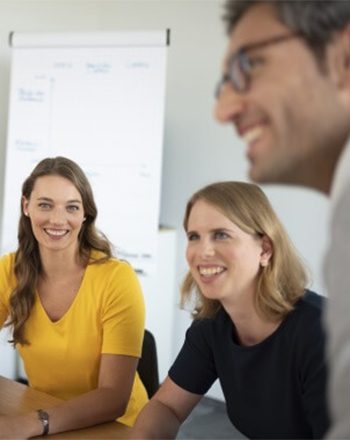 How are young professionals supported and motivated at INVERTO?
At the beginning, I went through some general and procurement-specific training to improve my presentation skills, as well as procurement and SCM-specific topics such as negotiation. I was also assigned a mentor (usually a Principal or Managing Director) as well as a buddy (Project Manager). Additionally, there is more training available depending on interest and demand – I had lessons to improve my business French, for example. Being constantly motivated by new projects & topics, but still receiving support from all sides, is all part of the INVERTO spirit.
What characteristics and skills do you need as a Consultant at INVERTO, from your point of view?
On top of the usual consultant skills, such as strong analytical abilities, resilience, personal responsibility and a passion for solving complex issues, you always need to think several steps ahead and focus on the priorities. We pursue a pragmatic yet empathetic approach at INVERTO, and exercise a keen eye for detail. Because that's the only way to develop holistic and sustainable solutions for our customers.
What are you currently working on for your project?
For my current project, I am working for a global trading company. Everything revolves around category management and procurement of own label brands. INVERTO has developed and successfully implemented new processes especially for these customers to pool own brands across distribution channels and geographical borders. I have guided buyers of different product groups through the new processes and supported them in identifying and implementing pooling approaches. To ensure this is also sustainably anchored in the company, a new international procurement department has been established, in which we now work.
How is a project team formed at INVERTO?
This can vary considerably, as the scope and the expertise required can differ greatly from project to project. Several Consultants and Senior Consultants are often used, as well as a lead Project Manager on location, in the classic format. The team is typically led by a Principal and a Managing Director. For smaller projects, one or two Consultants might carry out a project directly under the leadership of a Principal.
What inspires and motivates you at INVERTO?
The INVERTO spirit is what inspires and motivates me. The challenges and diversity in the themes of the projects are to be expected in consultation, but the particular working environment at INVERTO is something special. Collaborating with professionally and socially competent colleagues is a lot of fun, because everyone is interested in developing themselves and helping others to develop, without any fear of rivalry. The personal and professional development of each individual is based on realistic targets, fair evaluation and mutual appreciation – that is what motivates and inspires me in my work at INVERTO.